Claim your freebie!

Financial Security for Teachers

release fears of the future

financially resilient & secure

provide great experiences for you and your family

enjoy life to the full now
Take a course!

Who is it for?

a female teacher, wanting to feel calm & in control of your money

How will it help?

feel good about money, enjoy life more and feel like YOU again

reduce stress levels & create time for you & your family

pay off debt, make smart savings & build wealth
The Master Your Money series of posts are inspiring and motivating stories of how the choices people make can help them to be happier, healthier and wealthier.  This particular one focuses on why having multiple income streams is important.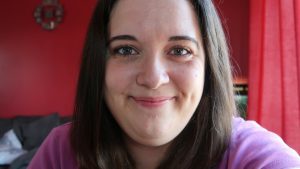 Tell us a bit about you and your family
I'm Katy, 30 from Essex. I live with my husband Thomas, also 30 and our 2-year-old daughter Daisy Blue. It took us 7 years to have our daughter, due to infertility issues with myself, and in that time we've completely changed our finances and our lifestyle.
What do you do to make money?
I blog on Katy Kicker, post on social media, complete paid surveys, market research, attend focus groups, write content and manage social media channels for other bloggers and companies. A bit of everything really!
How long have you been doing this?
I have been doing it in some capacity since 2012 maybe but I have been blogging since late 2014. I really enjoy it and feel that this is the area that I focus the most of my efforts on now, as it gives me the biggest rewards both financially and emotionally.
What inspired you to do it?
I was already making money online and people were regularly contacting me asking me for ways to make money. I decided to start a blog to help others, share my knowledge and give something back to people. Also, my blog is my outlet for my life and I love writing knowing that I might reach someone else and help them improve their own financial or physical situation, the same way that I have done myself.
What do you love most about it?
Helping others and getting to be home with my daughter every day.
What do you find most challenging about it and how do you overcome this?
Being motivated can be my biggest challenge. Some days I just want to play video games, eat takeaway and do nothing. I'm pretty good at self-motivating but from time to time I indulge my lazy side and just enjoy a nice day of not doing much.
Money can make or break a person.  Has your relationship with money changed over the years?
Yes, definitely. I want my money to work really hard now. I respect it more and do my best with the money that I have.
How do you feel that money has now made you happier, healthier, or wealthier?
I'm happier, as I work for myself. I'm healthier, as I can afford private healthcare if the NHS lets me down and I'm wealthier for sure. I'm going to buy a house later this year with a 50% LTV. Maybe even less!
What important choices have you been able to make because of money?
To have a child, to plan another child, to buy a home together. Lots of things! Even for my husband to cut his hours down at work and work less overtime.
For many, the retirement age is now 67 or 68.  Do you still see yourself still working at this age?
Yes, in some capacity. I enjoy working and love my job, but come back to me in 30 years and see if I still feel the same!
What does your ideal retirement look like?  What age?  What do you see yourself doing?
I'd love to always work as I do now, in some capacity, for as long as I was able to. When I calm down on my side hustles, and working hard, I'd love to spend time with my grandchildren, which I hope to have by then. Also, I'd love to do lots more travelling. But I'm not going to wait for retirement for that!
What plans do you have in place to allow you to live this ideal retirement?
Savings, being mortgage free, pension plans etc. The usual! All getting underway now!