Claim your freebie!

Free Emergency Fund Challenge

Add £500 to an emergency fund

be calm & more in control

be able to make good financial decisions
Take a course!

Who is it for?

a busy woman struggling with money, with no time to fix it?

How will it help?

quickly reduce anxiety & begin to feel more confident with money

implement simple systems, saving time & money with easy to follow money tips

start paying off debt, build emergency savings & security
According to the latest published report on Tax Credits* take up rates, there were still 32% of people eligible who were not claiming Working Tax Credits and 13% of those eligible for Child Tax Credit were not claiming their entitlement.
SO WHY IS THIS?
Tax Credits? Child Tax Credit?  Working Tax Credit?  Universal Credit?
CONFUSED?  YEAH, I WAS TOO!
All these phrases strike fear into the hearts of many.  "Where do I start?"  "Can I claim?"  "What can I claim?"  "Should I be claiming?" For some people it is a case of sticking their fingers in their ears and ignoring the white noise that is created when they hear all the confusing jargon! Others are really stressed about the process, but manage to muddle their way through it, hoping that it will all work out eventually.  Then there are others who have it sussed and are really benefiting from these credits that are designed to help people on a low income. This is where some people might be missing out, because they don't think that they are on a low income.  According to Moneysaving Expert, Martin Lewis, some families who are earning up to £73,000 may still benefit depending on the number of children they have and how much their childcare costs are. There are various websites and documents where you can find out about thresholds and calculations and all sorts of other figures.  For some this can be really helpful while for others it just adds to the confusion. I have put together a simple and clear (I hope) explanation of the basic information that you need to know in the following images.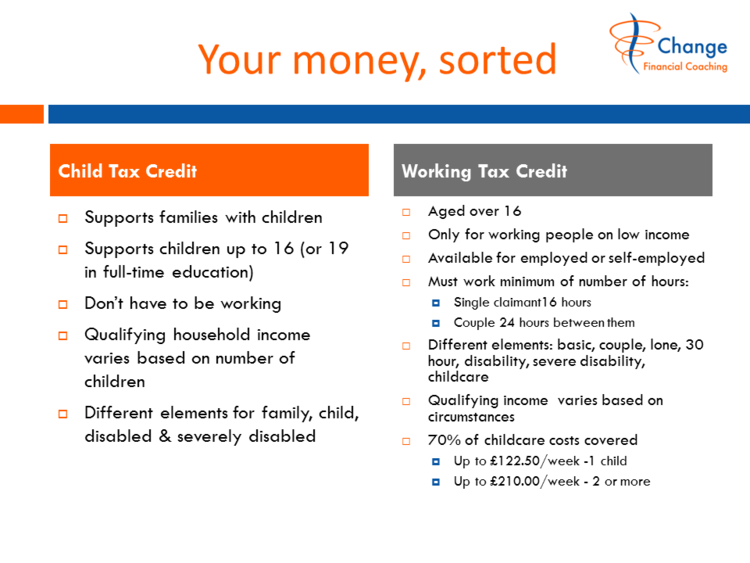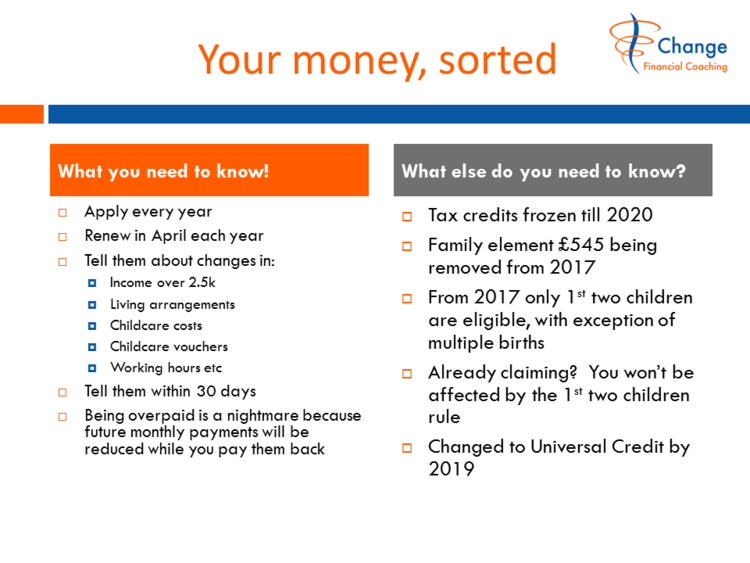 However, rather than getting too caught up in the facts and figures, I would suggest that everyone who has children and a combined income of £73,000 or less takes 10 minutes to check to see if they are entitled to claim tax credits. Simply gather together information about your working hours, household income (gross pay - before Tax & NI is taken off) and your childcare costs and then check the Tax Credits Calculator
 THE CONFUSION DOESN'T END THERE THOUGH!
In terms of childcare there are different options for paying for childcare, which can impact on the tax credits that you may be entitled to. Currently many people are able to access Childcare Vouchers to help pay for childcare and in 2017 a new scheme, Tax-free childcare, is being introduced. For some people using Childcare vouchers will be the best option, while for others the savings will be greatest using the new tax-free childcare option.  However, understanding the options and making the right decision for you and your family can be difficult.  I have simplified this into a few simple steps that should help you to maximise the savings available. Firstly have a look at the information contained in the following images to help you to understand the differences between Childcare Vouchers and Tax-free Childcare.
STEP 1
Work out which scheme is going to be best for you and your family. Which scheme will save me the most money? If it suggests that you are better off using tax-free childcare, then you will have to wait until 2017 before you can access this.  In the meantime, you may like to check out steps 2 or 3 in case you can be making added savings at present.
STEP 2
If it suggests that you will be better off using childcare vouchers, then use the link below to check if you are better off taking childcare vouchers and/or tax credits Better off calculator
STEP 3
If you aren't already using childcare vouchers find out if your employer offers them.  Childcare vouchers also save employers money, so if they don't offer them, then ask if they would consider doing so in the future.  There are various providers who will help them to set up the scheme. By 2019 it is expected that the benefits system will be simplified for everyone, with the switchover toUniversal Credit, but you will be informed when and if these changes will affect you. I hope that this article has helped you to understand the basics of the tax credits system and helped you to claim your entitlement and save some money.  If you have found this post useful, then please share it with friends. Eileen x
I am Eileen Adamson, a Your Money, Sorted coach, working online with UK based women, helping them to develop a better relationship with money.  By gaining an understanding of how their personality affects the decisions they make, I can help them to implement changes which will allow them to feel calm, positive and confident that they are in control and making good financial decisions.  I can then support them to put into place simple strategies that will allow them to manage their finances effectively on a daily basis and create a stable, secure and exciting future for themselves. I help women to improve their wellbeing and their lives, through taking control of their finances in a fun, interactive and exciting way.  My Your Money, Sorted courses have got 5 star feedback from previous participants, who have each saved an average of over £200 per month.   * Child Benefit, Child Tax Credit (CTC) and Working Tax Credit (WTC) take-up rates 2013 to 2014