Claim your freebie!

Free Emergency Fund Challenge

Add £500 to an emergency fund

Be calm & more in control

Be able to make good financial decisions
Take a course!

Who is it for?

a busy woman struggling with money, with no time to fix it?

How will it help?

quickly reduce anxiety & begin to feel more confident with money

implement simple systems, saving time & money with easy to follow money tips

start paying off debt, build emergency savings & security
It's surprising how easy it can be to save £1500 a year - read on to find out how to save money on food.  This is not about eating beans and toast for months on end, and it's not about missing out on the things you love – this is about making simple changes to make super savings!  Then it's about choosing what you would prefer to spend that "free" £1500 on?
How to save money on food
As a pretty savvy grocery shopper, who regularly compares prices and buys a lot of value and own-brand products, I was skeptical about the idea that MySupermarket could save me £1000 per year.  However, two grocery shops later, I am a total convert!
Since 2002 I have been an avid fan of Tesco.com.  However, a couple of years ago, I decided to switch to Lidl, after feeling that shopping bills were getting too expensive.  I loved the fact that at Lidl I was always surprised at how little my shopping was costing, rather than at Tesco always being horrified at how much it added up to. 
Another plus for Lidl is that, when choosing an item, you only really have to choose between option A and option B.  The shopping process is so much quicker than in the major supermarkets, where even deciding which tin of beans to buy can take a huge amount of brain power!
It's not all good news
That said though, there were some major downsides to shopping in Lidl.  Number one is that I am busy woman – I don't have time to put an item in my trolley, take it out again, put it in again, take it out again to put in the car, take it out the car, take it in the house, and finally put the bloody thing away. 
I DON'T HAVE TIME FOR THAT!  
Then there was the stress of trying to race the checkout assistants - starting by neatly packing things in the bottom of the trolley and ending up throwing stuff in everywhere with my heart pounding and sweat lashing off me.  
I DON'T NEED THAT STRESS!  
However, I still needed to work out how to save money on food shopping.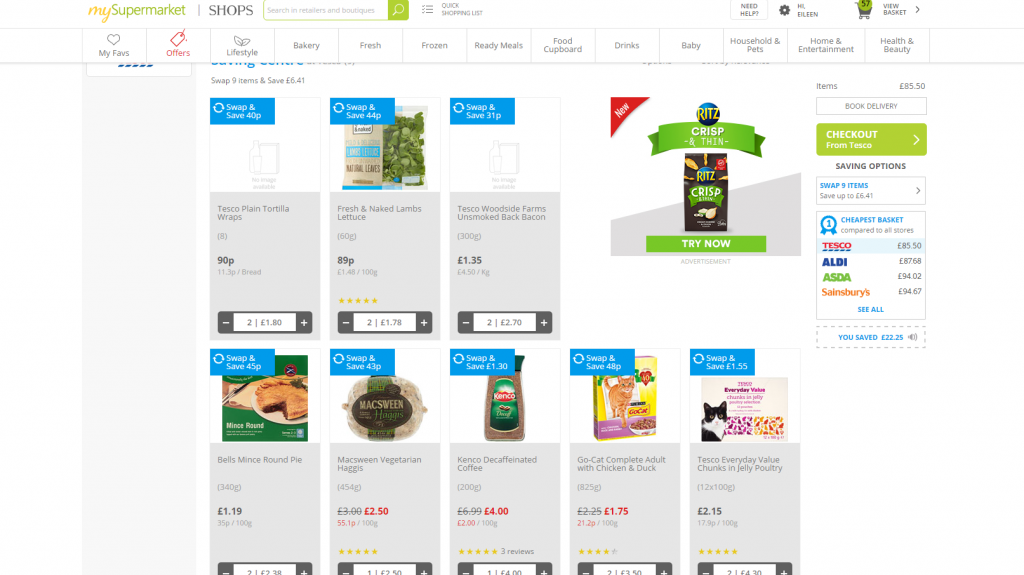 This offers the best of both (or all) worlds and I can have the convenience of online shopping, while still making sure that I am getting fantastic value for money.
Once registered for MySupermarket, you can choose a store to shop in, then complete your online shopping as normal.  The genius of the website is that it actually suggests product swaps which would save you money - this could be switching to a cheaper brand, to a different product size or to a similar product.
It also compares the price of your shopping basket in other major supermarkets, such as Morrisons, Sainsbury's, Asda and Aldi, and if you find that your basket will be cheaper in another store, you can simply transfer your basket to that other store in one click.
Easy! Amazing!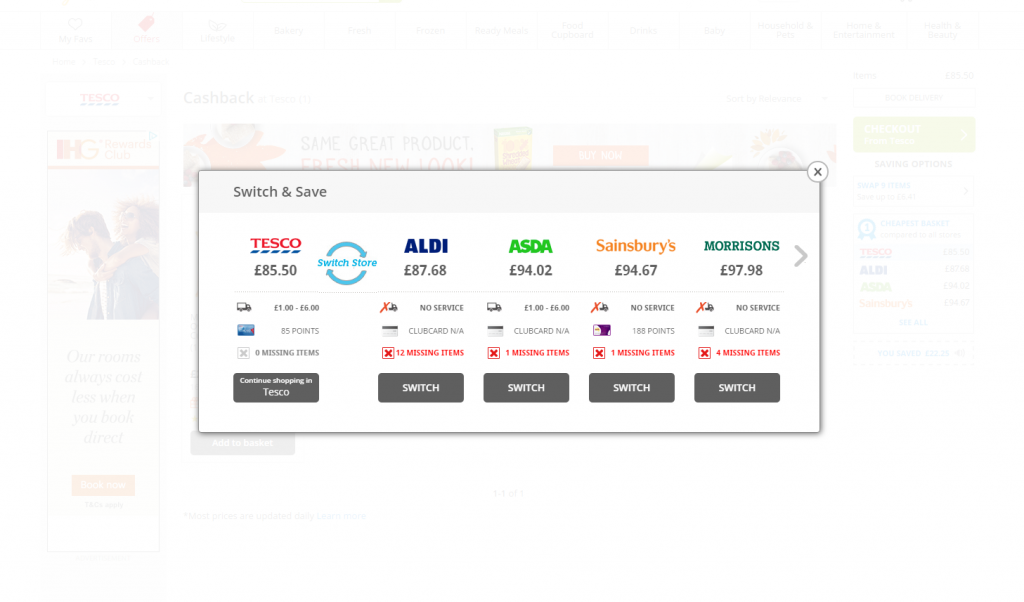 Once you are happy with your basket, simply click on checkout and it will take you to the supermarket's own website, where you can arrange delivery and checkout as normal.
It is so simple, so easy to use and a fantastic way of ensuring that you are getting great value for money. With savings of almost £25 on each shop I have done, I can now easily see how MySupermarket can help consumers to save over £1000 per year. With these massive savings and the convenience of getting my groceries delivered it really is the way forward for me and many other busy families.
How to save money on food delivered to your door?
Tesco.com offer fantastic deals on their delivery saver options. Get unlimited midweek deliveries for only £3.49 per month or get 7 day delivery slots for only £6.99 per month.  They also offer a delivery saver guarantee which promises to refund you if your plan costs you more than you would have spent on delivery, so you really can't lose.
Midweek Delivery Saver savings = £126   (Or save £156 by using Click and Collect)
Flex your muscles
Another way of saving on your supermarket shopping is through using MuscleFood. I have heard a lot about MuscleFood recently and it seems to offer amazing value for money, so I decided that I needed to try it for myself.
The ordering process was simple, their site is really easy to navigate. I was a bit concerned about the meat being left outside for a few hours, especially on a warm day. However the packaging is amazing – the meat is packed in a thick insulated packaging with ice packs and bubble wrap, all stored inside a very sturdy cardboard box. The meat was still perfectly chilled, despite having sat on my doorstep for a few hours.
MuscleFood actually states that "All our meat is delivered in specially designed temperature controlled boxes that stay chilled for up to 48 hours, guaranteeing you fresh produce every time." I can totally believe this, having witnessed how much care they take over the packaging of their meat.
Great value chicken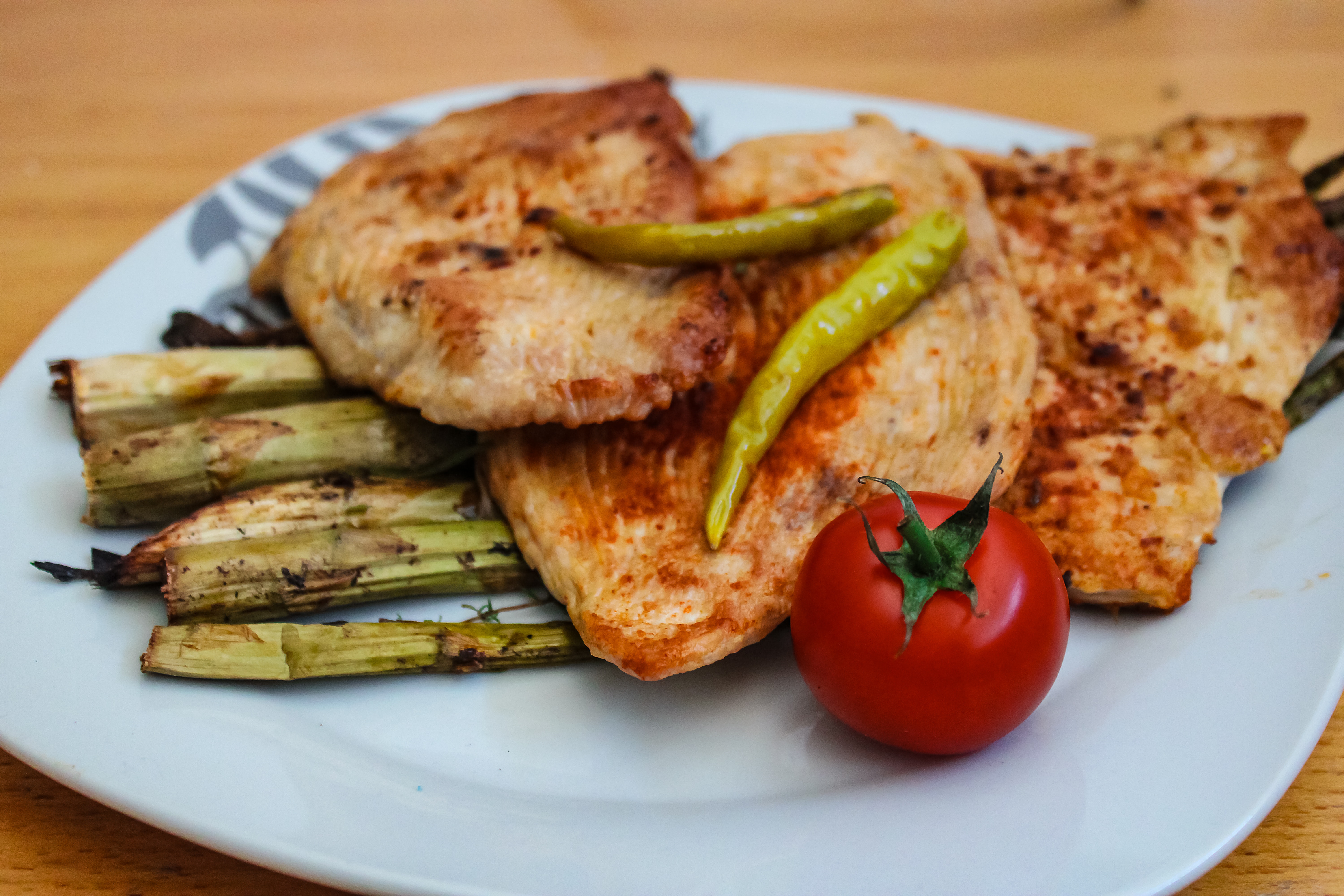 The chicken breasts that come in big multipacks, are amazing value.  Normally we would eat a chicken breast each if we were buying them from the supermarket, but these ones are so HUGE, that we don't need as many. I stick them in the freezer, packaged  in pairs, and we have found that 3 or 4 chicken breasts it is a perfect amount for our family of 5, depending on the dish.
The chicken is really meaty and tastes amazing, and at £25 for 5kg is great value, and another example of how to save money on food.
Get approval
Using Approved Foods is another way of saving on your supermarket shopping.  They sell products at hugely discounted prices, which are past or reaching their sell-by date.  With a claim of being able to save 70% off your supermarket shop, as well as delivering to your door, they are well worth a look.  The offers change on a regular basis, so it can be very hit and miss, depending on what they have in stock.
My Total savings = £1511
If you would like to save even more money, then a great way of doing this, is by meal planning.  Simply taking the time to think about what you want to eat every day, and writing out a list will help you to be more organised as well as spend less.
The beauty of the above suggestions is that you can actually make these savings, without having to even move off the sofa! 
However, there is a part of me who wonders if I should also be looking into the benefits of shopping locally. 
If you have enjoyed my suggestions for how to save money on food then please sign up to be first to hear about other blog posts.
Pop over to my fun and friendly Your Money Sorted Facebook group where I share tips, suggestions and inspiration, as well as general chat. I would love to see you over there.
I love to hear from my readers, so please comment below and let me know what you think of these suggestions.
Eileen x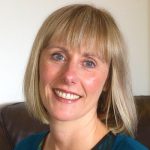 I am Eileen Adamson, Your Money, Sorted coach, working online with UK based female teachers.  I can help you to develop a better relationship with money and feel calm, positive and confident about money, allowing you to live the life that YOU want to lead.