Did you see Shop Smart Save Money when it was on earlier in the year?  I was an avid watcher of it for two reasons.
It's packed full of fantastic money saving tips, making it really interesting, and hugely useful!
It stars 4 people from our fantastic UK Money Bloggers (UKMB) group.
It was brilliant to be able to watch some of my fellow money bloggers, in the limelight.  As well as featuring Kelly (Reduced Grub), Jo and Leisa (Penny Pincher's Paradise), Andy Webb, (Be Clever With Your Cash) who started UKMB group was one of the main presenters. I spoke to Andy to ask him a little more about the show, and how my readers could get involved..  Yep that's right - read on to find out how YOU could make BIG savings, and be involved in the show!
Tell us a little about Shop Smart Save Money, Andy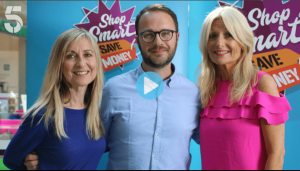 Shop Smart Save Money is a consumer TV show on Channel 5 presented by Fiona Phillips, Gaby Roslin and, somehow, me. As you'd hope it's full of tips and tricks to help people save money. I'm there to breakdown the week's best deals. We made three episodes which aired in the summer and they went really well. So well that we're back for eight more in the autumn and another eight in the spring.
How did you get involved with the show?
The team were looking for a money expert to help out, and they saw my blog and videos online and asked to meet. Originally I was only going to be advising them on content and making the £1k challenge films (where I meet a family and try to save them £1,000). But after a few meetings they asked if I'd also be there in the studio with Fiona and Gaby as the show's "deal detective".
What did you enjoy most about the first series?
My background is actually in TV. I used to be a researcher and assistant producer for the BBC, making programmes like the Culture Show, Crimewatch and Football Focus. But I never, ever wanted to be in front of a camera. But this was different. I absolutely loved it. We film "as live" and I've got to get lots of information out, with lots of details and figures that need to be correct. It's quite a challenge to remember it all. So there's a real buzz doing this which I don't get when I'm typing at a computer for my blog.
What's your best money saving tip?
Often in the show I'll perform what we call "Andy's Wallet Trick". I'll take a look inside a wallet or purse and empty it of all the cards and receipts. And more often that not I find that the debit card people have is the same bank they've had for years - and it does nothing for them. If you switch bank you can get cash bonuses of £100 or more, cashback on your bills or up to 5% interest on your savings. We're talking hundreds of pounds. I'll also often find unused gift cards, vouchers about to expire, half completed coffee shop loyalty cards and receipts for things we mean to return. It's all worth money too, and we often forget we have it on us. So while you're checking your wallet, take a look at the rest of the stuff in there too.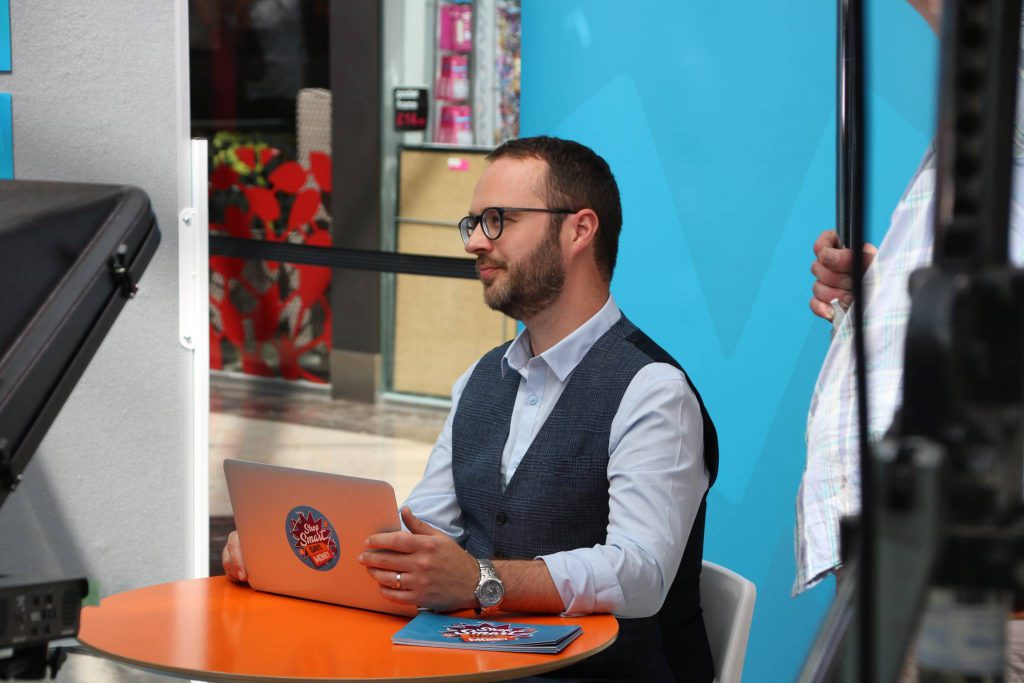 You help people to make big savings – what was the most you helped a household to save?
Yeah, so this is the £1k Challenge I mentioned earlier. I met three lovely families in the first series and managed to find more than £1,000 of savings for each of them. The biggest was Sophie and Rakesh, where I managed to find £1,790 of savings!
You are looking for more people to help in the next series. What are you looking for, and how can people get involved?
6) We want more households to take part in the £1k challenge for the next two series. You can be good or bad with your money.  If you're selected I'll come to your home and hopefully find ways to save. It doesn't take up much of your time, and not only do you get to be on the telly, you'll hopefully be £1,000 better off over 12 months. If you want to know more you can email savemoney@truenorth.tv or visit the Shop Smart Save Money Facebook page. There's no commitment if you get in touch, someone from the team will just call you back and explain a little more. If you fancy the chance of a makeover, then why not apply today!  Andy is really lovely, and is absolutely brilliant at what he does, so you would be in very safe hands.
If TV is not for you, but you would still like the chance to save some money, then why not check out the freebies section of my website, where you are sure to find something to help you today.