This is your chance to REALLY make a difference, not just to your money, but to your life. 
It's about starting to create financial security so that your future can be whatever you choose! 
It's about taking control so that you can make decisions that suit you and your family.  
Would you really, really like to:
get rid of that credit card debt?
have savings to cover most emergencies?
reduce overspending?
plan a secure future for you & your family?
have extra money to make your life easier?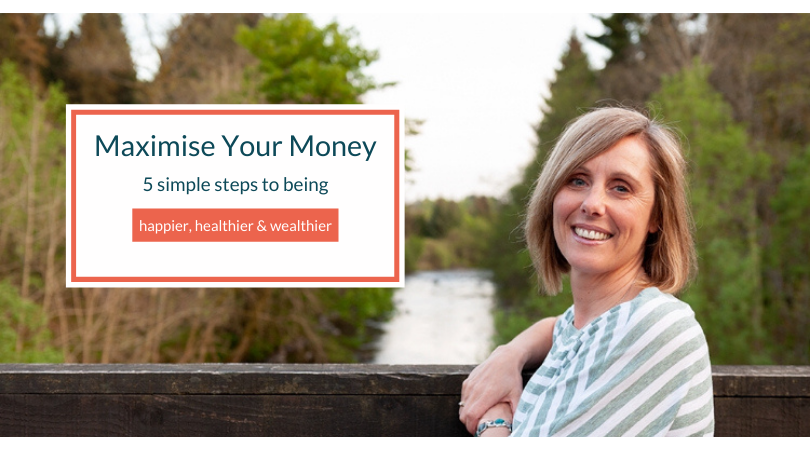 What's included in the course?
Step 1: Identify where you are wasting money each month and start making that money work better for you.  Let's get to grips with where your money is going, quickly and easily. 
Step 2: What would make your life easier or happier?  Think…… having a cleaner, getting your house decluttered, a gardener, paying off debt or building your savings.  Figure out what will truly make a difference and let's get started on making that happen.    
Step 3: A massive dose of positivity.  About money, life & how to move from feeling overwhelmed & anxious to organised & awesome.   Today is all about taking back control.
Step 4: How to set up a simple system for managing money, so that you can easily spend your money on the things that will make the most difference to you. 
Step 5: Goal setting for your next 30 days to make sure that you leave this course armed with the tools for creating a more secure future. 
Sign up below to Maximise Your Money in 2021
I'm confident I can help you to free up at least £150 per month.
You could:
save £12,500 in interest and get £140,000 mortgage paid off 6.5 years early (Imagine.....no mortgage! How much money would that free up each month?)
pay off £3000 credit card debt 9 years early and save over £1000 in interest, compared to making minimum payments
have over £21,000 saved for the kids heading to Uni in 10 years' time
Now imagine that you could free up £300 each month?  Or £400? 
We are talking serious, life-changing moments, coming from one decision!  
And that decision is yours to make.
Are you up for giving it a shot? 
Who is it for?
This is for you if you:
are fed up worrying about money
would be mortified if everyone knew the truth about your money situation
want to create a secure future and leave teaching whenever you choose
are overwhelmed with life, work & money & don't know where to start
want your life to be different!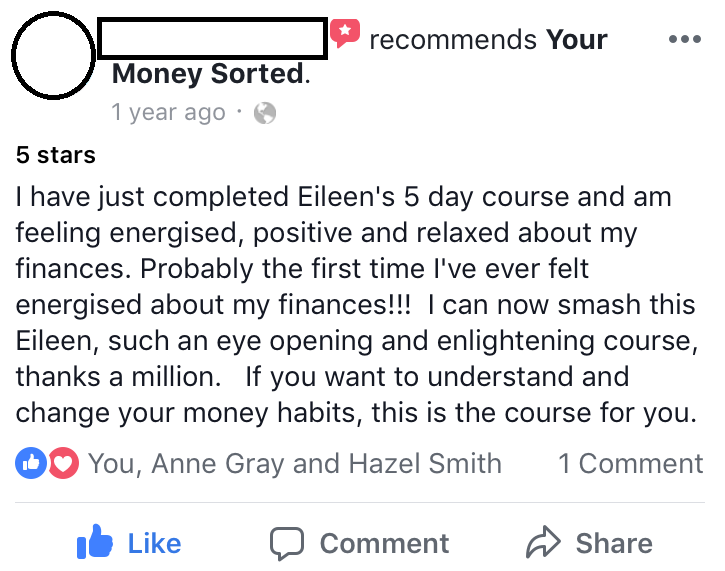 What results will you get?
You will:
know exactly what you need to do to create financial security
implement a quick and easy system for managing money
start paying off debt and feel excited about it
find extra money to start building savings 
feel positive and excited about the month ahead
feel confident that you CAN do this and CAN be good with money!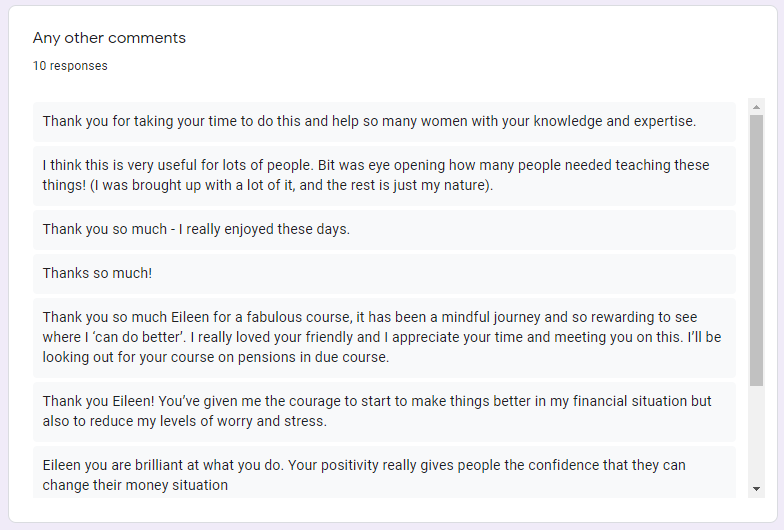 Interested, but wondering how it will work?
It will be a 5-step programme designed to help you to get quick results.
You will get:
5 x 20-minute videos, with transcripts if you prefer to read.
5 tasks to complete, which should each take no more than 40 minutes
A course booklet to help you to make the most of the tasks
Why trust that I can help you?
I am Eileen, teacher, co-host of BBC podcast Clever About Cash and money coach, empowering female teachers to become happier, healthier and wealthier. 
Being a teacher too means I understand the stress and strain of teaching, especially this year!  I know about the turmoil.  The upset.  The anger.  The frustration and sheer exhaustion.  I know that you have enough your plate just getting through each day. 
However, money worries do not help your wellbeing.  Removing the strain of this will free up some much-needed headspace to face next term. 
I created this course so that you, and other female teachers, can save time and effort on dealing with money.  
Come and join me and we can get this sorted so that you can start building a secure future for you and your family.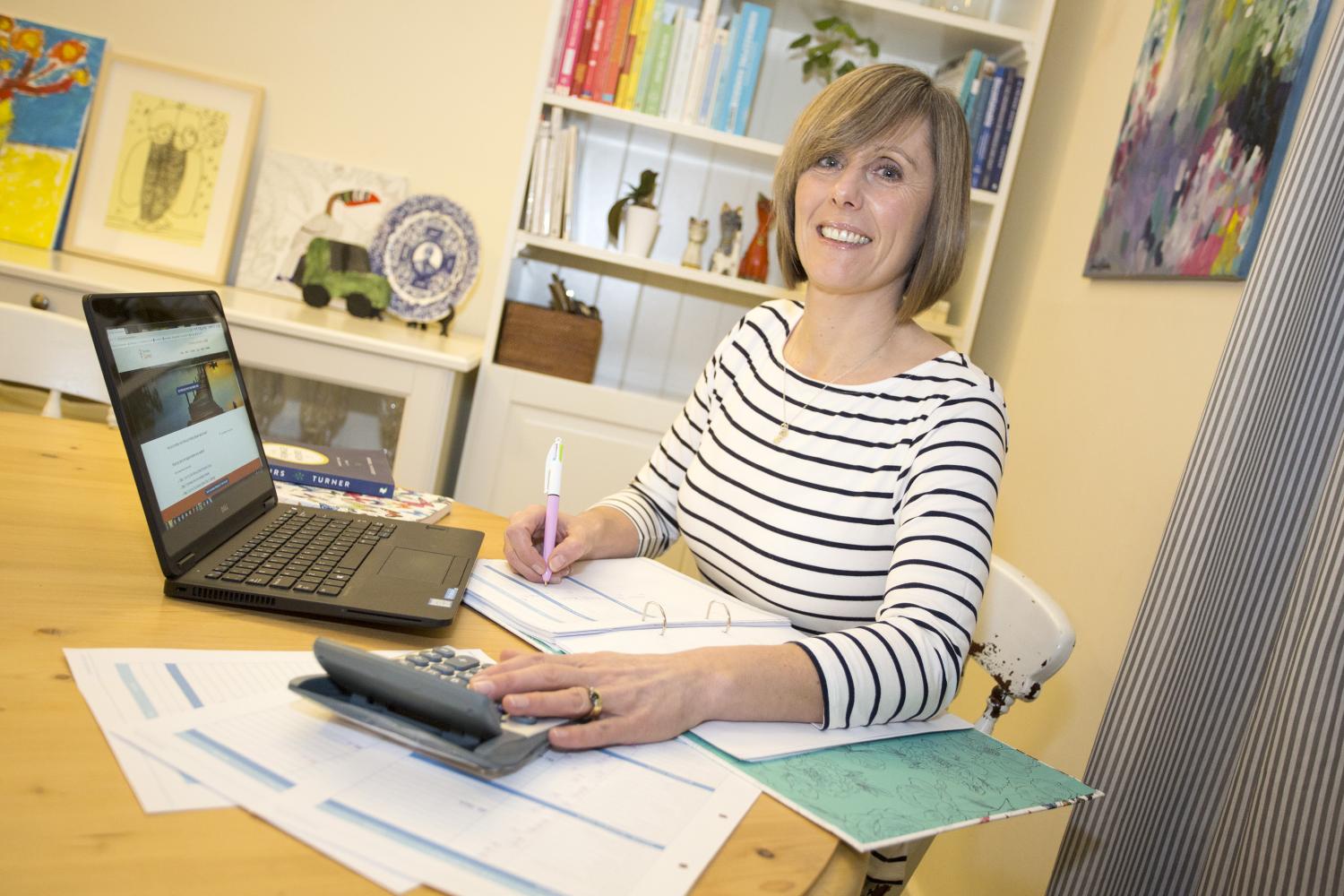 This is your chance to FINALLY get the results you have been looking for!
Sign up below to Maximise Your Money
FAQs
When does the course start?
You will get immediate access to the money course, and you will also have lifetime access to it.
I'm interested, but I just don't think I will have time for it. What can you suggest?
If money is holding you back, then you have to make time to change it.  The course fits around hectic lifestyles, with 24/7 access available on phones, tablets and PCs.  I reckon you can get through the entire course in 5 hours and I promise it will be worth your while.
I love the sound of it, but it just seems so hard to take the plunge. Have you got any advice?
Clients describe my courses as exciting, motivating, inspiring and life-changing. The hardest thing is making the decision to join – once that's done, the rest is easy!
Why can't I learn all of this myself from books and internet? Why do I need your course?
I think you will find the questions I ask and the tasks I set are very different to anything you will find on the internet.  This is no ordinary "money makeover", but instead a thought-provoking and exciting journey into your thoughts and feelings around money.  The 5-step process makes it manageable, easy to follow and will give you quick results.  
Why should I invest the money in this course?
Every single person who has taken this course has said they would recommend it to a friend.  Overall 85% of previous clients say that my courses are EXCELLENT value for money. You can be confident that you are making an amazing investment in your future. Remember I offer a full 30-day money-back guarantee. If you complete the course and are not 100% happy, please send me your completed booklet and I will refund you.