Would you like to
relax, knowing that you can leave teaching when YOU choose
Is this you now?
concerned about having to teach until your late 60s
wanting to retire early, had a break from teaching, or teaching part-time
would like to have a good standard of living in retirement
Are you?
a UK based teacher who wants to retire early
How will it help?
know your ideal and predicted income in retirement
be empowered to take more control of your own retirement
identify the steps needed for an exciting, well-deserved, early retirement
A short-course to help teachers have a well planned retirement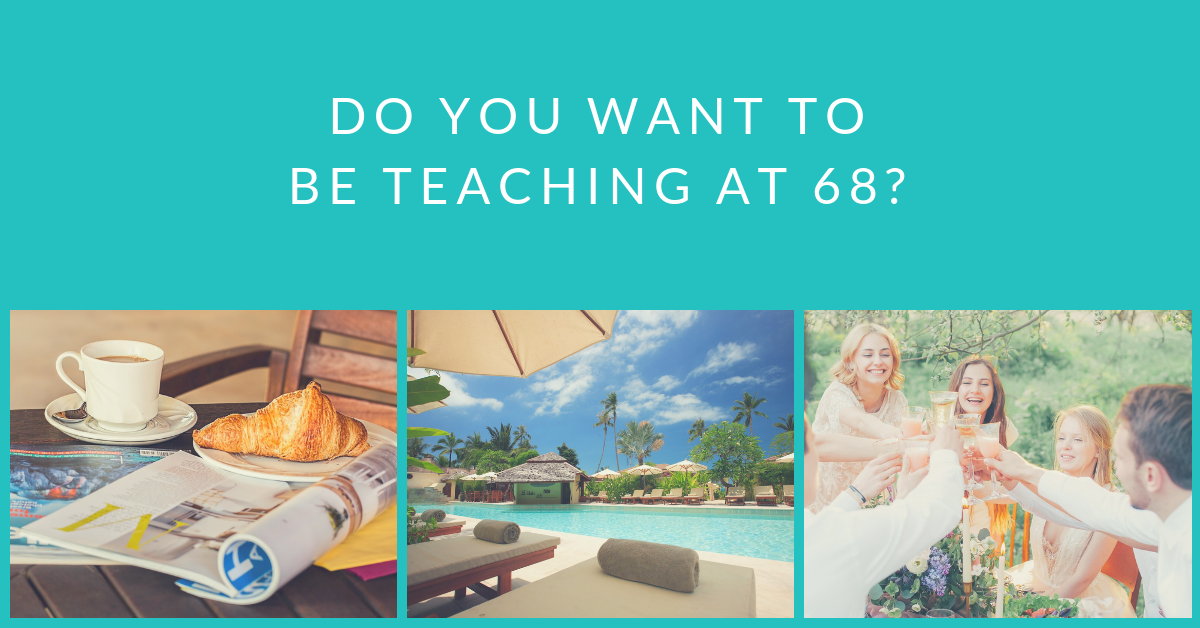 81% of teachers* want to be retired by 60, but only 5% know they can afford to.
The reality is that it that seems so far away.
You don't know if you can retire before you drop dead in the classroom, so you are just hoping for the best!
It's too complicated, so what's the point in even thinking about it? There's nothing you can do about it anyway.
It's just not the case!
You can be in control  You can decide.  And you can change your situation, starting now.
In just a few hours the Teachers' Pensions Retirement Planning course can help you to:
be confident that you can retire when you want
feel confident that you will have your desired income
be excited and energised about plans for your future
be empowered to take more control of your money
increase your confidence in managing your retirement
reduce stress around retirement
enjoy your career more, knowing that you can retire when you choose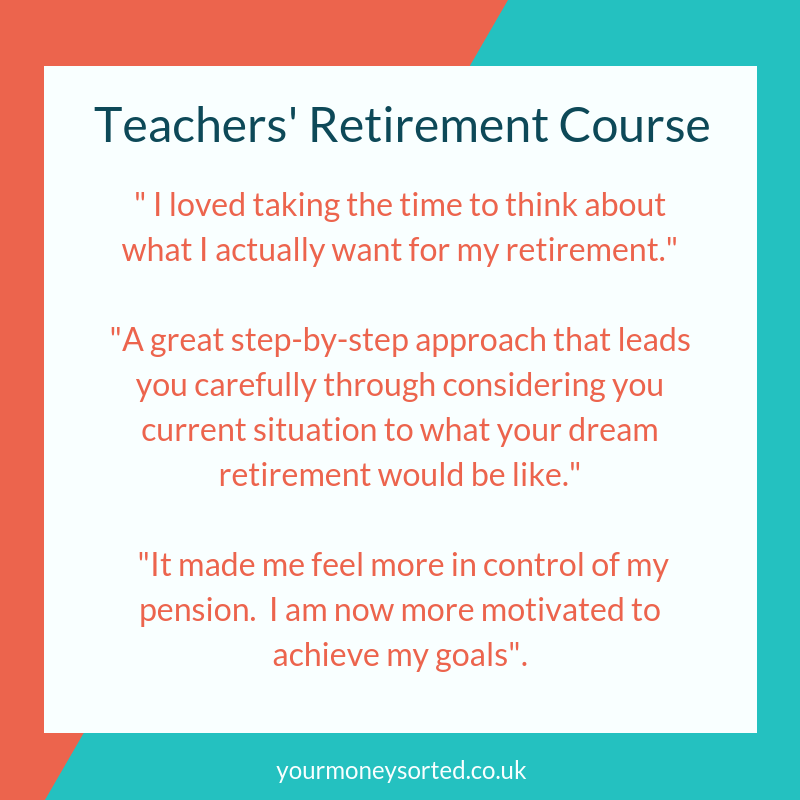 Who am I and how can I help?
I am Eileen, married mum of 3 teenagers, part-time PE teacher, self-employed bookkeeper and financial coach.
I struggled to balance motherhood and teaching, after a surprise set of twins left us with 3 under 2, .  After a few years, I reduced my teaching commitment, because I was just too tired, and too grumpy, to continue teaching full-time!  
I went down to 0.4 and started my own bookkeeping business, which gave our family a much better work-life balance.  
However, in my early 40's, I started to think about retirement.  My plan had always been to retire from teaching at 55 and go travelling, but on checking my predicted pension, I got a huge shock.  It was predicted to be around £6,000 a year!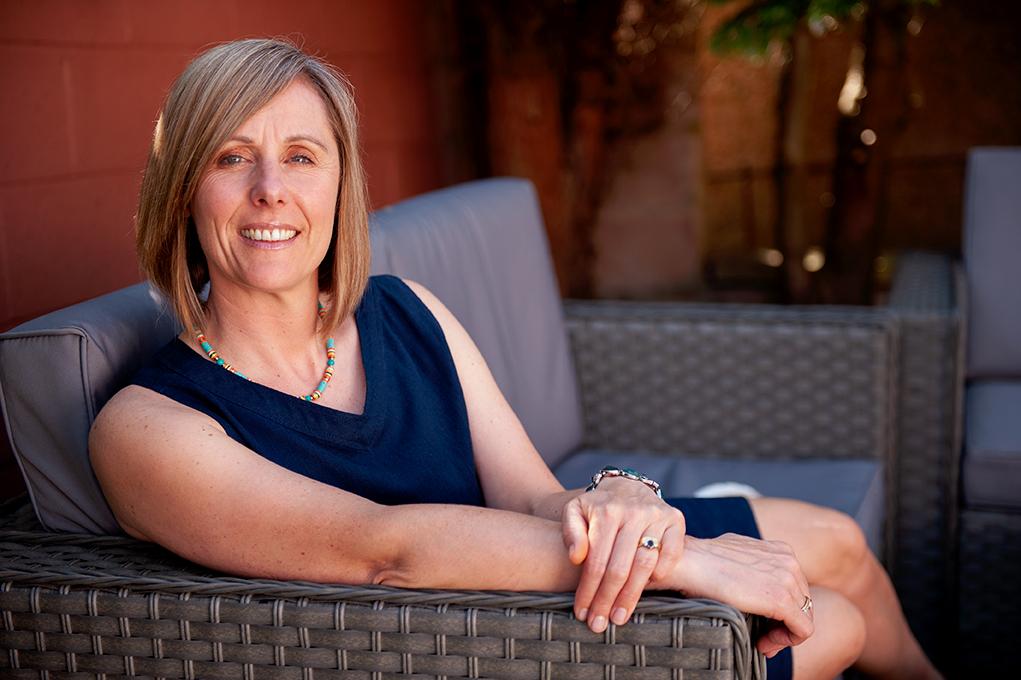 I hadn't realised the impact that part-time teaching would have on my pension.
I spent a good few years in the doldrums, thinking I would have to teach until 60, if not well beyond, in order to make ends meet. I felt my retirement dreams were just impossible.
Eventually though, I got my brain in gear, and decided that I WOULD retire from teaching at 55, I just needed to figure out HOW!  
I have put everything that I have learned into this course, so that other teachers can ensure that they are ready to retire when they CHOOSE!
What will you get on the course?
a simple, step-by-step process to follow
6 thought-provoking and useful modules
tasks to complete at a time and place that suits you
individual course booklets to record your thoughts
24/7 access online
anonymous sign up
support and encouragement from the other teachers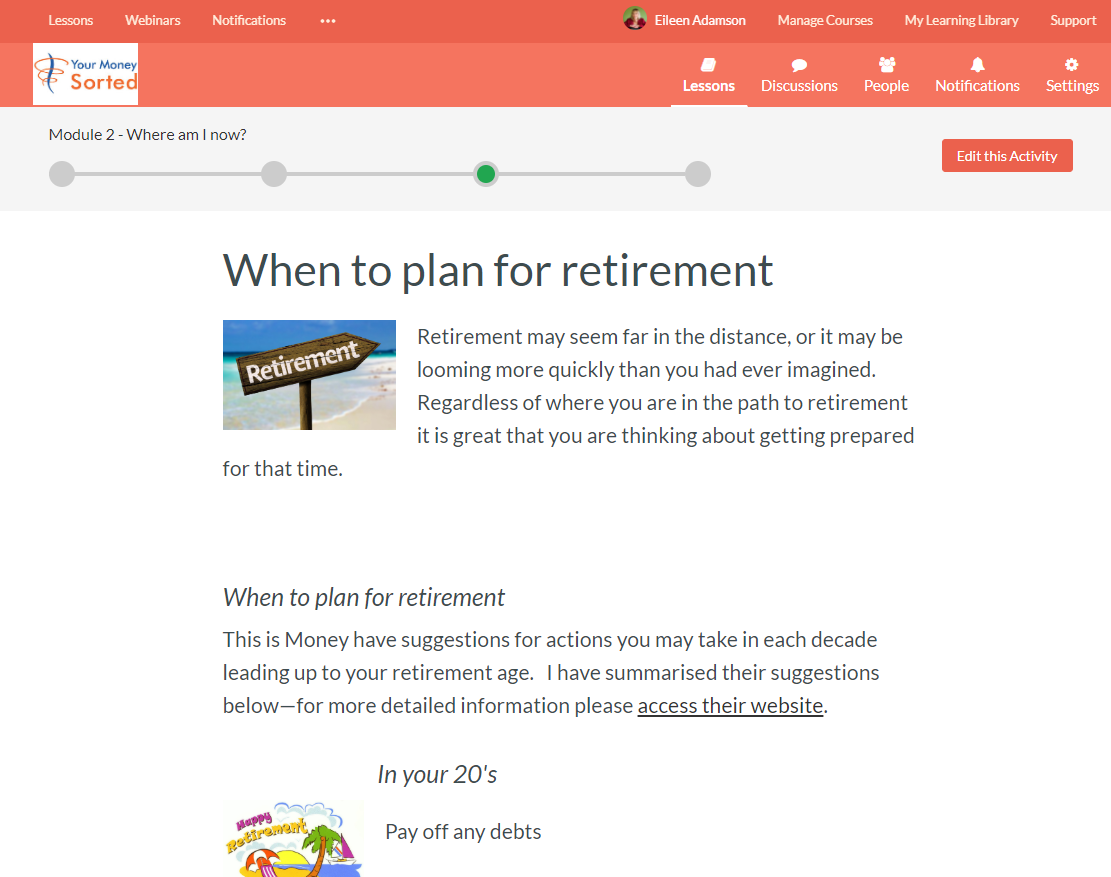 Taking time to consider your future, and start planning effectively, is the most valuable investment you can make.
Having plans that will allow you to live the life you want in retirement, will give you peace of mind and financial security.
It's about being able to leave teaching when you choose, rather than staying until you can afford to leave.
And this course can help you to get started on this TODAY.
What do previous clients say?
"I feel excited now that I know a lot more about my options, and I can take action on the financial aspect of my future"

"I am so relieved, because I was worried about having to teach for 42 years!"
"The course was simple to follow, and packed with great info"

"I just wish I had done it 20 years ago. I could have been so much better prepared financially, and retired much earlier"
The course will make a real difference to your future.
However, I know you are not sure if it is for you.
Why pay money to plan a retirement that seems so far away?
You don't want to waste money on a course that might not help.
I get all that.  It's so difficult to know who to trust and who not to trust.  Especially when it comes to money and finance.
To help you out I offer a full 14-day money-back guarantee.  If you are not 100% happy, I will give you a full refund.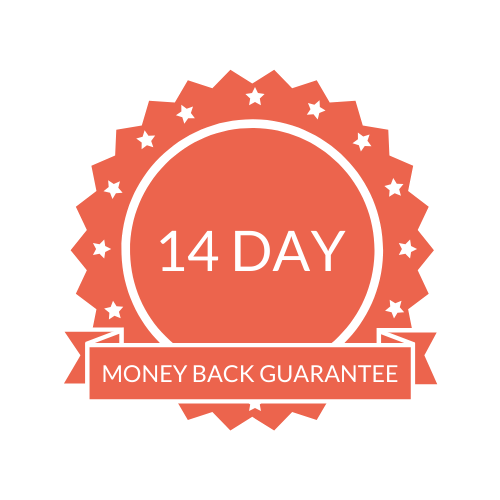 FAQs
I am not sure that this course is for me. Can you explain who it is suitable for?
This course will help you to clear up any confusion about teachers' pensions.  If you don't want to continue teaching until your mid/late 60's, are unsure about when you can afford to retire or what to do about it, then this is the course for you. If the thought teaching until 67 or 68 fills you with dread, then come along and complete my course.  It will motivate and inspire you to look at different options for teachers planning retirement.
When does the course start?
This is a self-study online course, and will be available immediately.  You will also have lifetime access to this course and the information in it.
I'm interested, but I just don't think I will have time for it. What can you suggest?
If you truly want to ensure that you achieve your ideal retirement, then you will make time. It can be completed totally online, so you are able to access it wherever and whenever you want. You can complete it by doing small chunks each day, or by dedicating a whole day to it at the weekend. It's your choice, and if you want to retire early, then it's up to you to make time.
Why can't I learn all of this myself from books and internet? Why do I need your course?
Teachers pension contributions can be confusing, but retirement planning is necessary if you don't want to stay in the classroom until your late 60's.
There is a wealth of information in the course, some of which can be found on the internet.  However, the step-by-step process give you only the information that you need. You can complete the course quickly and efficiently, thereby saving you hours of research.
I love the sound of it, but it just seems so hard to take the plunge. Have you got any advice?
My clients have described my courses as exciting, motivating, inspiring and life-changing. The hardest thing about it is making the decision to join – once you have done that, the rest is easy!
Why should I invest the money in this course?
With 85% of my previous clients agreeing that my courses offer excellent value for money, you can be assured that you are making an amazing investment in your future.
Remember too, that I offer a full money back guarantee if you are not 100% happy.