Would you like to
feel calm, confident and in control of your money?
pay off debt, start building savings and have more money for fun?
Is this you now?
sick and tired of living from payday to payday
fed up of worrying about money, bills and unexpected emergencies
overwhelmed with it all, but just don't know where to start
Are you?
a busy woman struggling with money, with no time to fix it?
How will it help?
quickly reduce anxiety & begin to feel more confident with money
implement simple systems, saving time & money with easy to follow money tips
start paying off debt, build emergency savings & security
Get the basics right in 30 days & start feeling good about money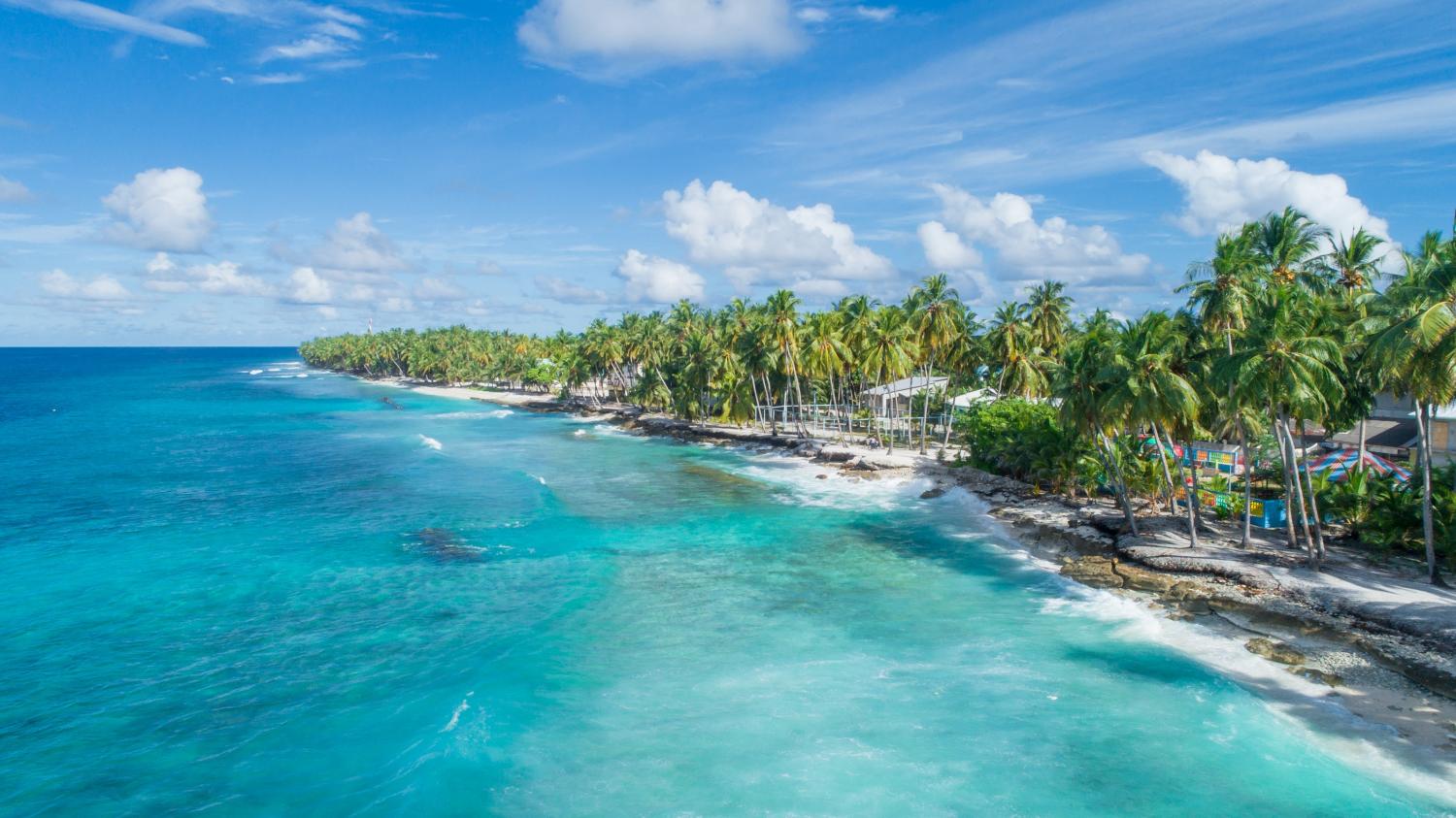 Click here to


start the self study course


right now
On the course you will get:
the one thing that will change the way you feel about money forever
tasks to help you feel positive and excited about money – honestly!
help to create a plan for your future, to banish those anxious feelings about having to work until you drop dead
tips to manage money like a pro, in just a few minutes a day so that you save time, stress and money
Start now - £19
Money Makeover in 5 minutes a day is THE course that helps you move from stressed and anxious to confident and calm about money in just 30 days.
It's designed to be done in small chunks of 5 minutes a day and reduces anxiety around money right from day one. 
It shows you where you can easily save money each month, giving you a sense of excitement about the future and making you feel totally proud of yourself!
It gives you all of that in just 30 days, even if you have always been "rubbish with money"
It is time to take action, and prove to yourself, and everyone else, just how awesome you can be at managing your money.
Here is a small sample of what we cover in this Money Makeover course
A vision for your new and improved life 
Simple ways to reduce costs and increase income
Why you MUST get rid of credit card debt, and how to do it
The questions you HAVE to ask yourself
Understanding WHY you spend, and how to stop it
A spending plan to make you richer and happier
I am Eileen, a busy working mum of 3, teacher and financial coach, working with women all over the UK.  Having had my own struggles with money in the past, I totally "get it" and know exactly how to help others. 
You won't get any financial jargon, or complicated formulas - instead you will get straight-talking, sensible help with the things that matter most. 
Through helping you to improve your money mindset & money management skills, I can help you to live happier, healthier and wealthier life.
I can't wait to share all my secrets with you in the Money Makeover in 5 minutes a daycourse, so why not grab a coffee (or gin!) and get started right now?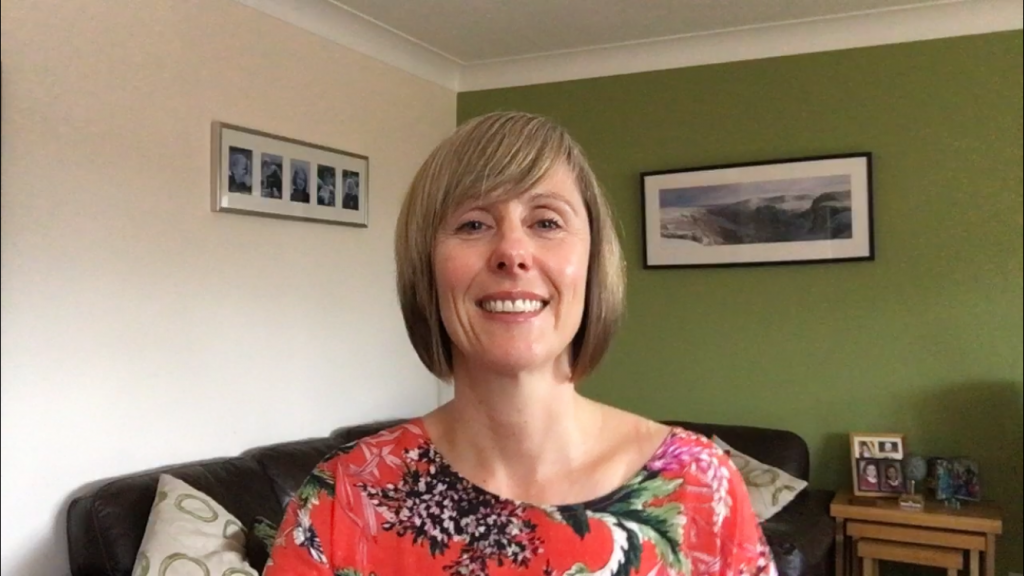 Let's think seriously about this for a minute!
You could continue to juggle your debts and potentially waste thousands of pounds on interest
OR
You could bury your head in the sand, hope that things magically improve and continue to waste money every month
OR
You could keep reading all the free stuff, but never actually take serious action and continue denying yourself the chance to be financially secure.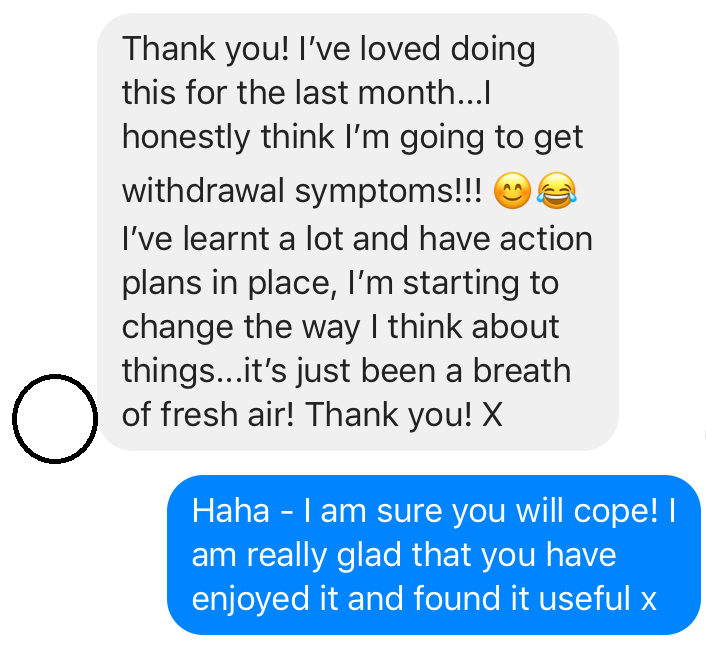 I reckon that the absolute minimum saving you will make is around £100 PER MONTH, but most of my paying clients save way more than that.
By investing just £19 today, in 12 months you could have £1200 more to spend on the things that make you happy!
Be honest now, if I just handed you that big hunk of cash, would you turn it down? Think about that before you click away....
Why not take this chance to effortlessly move from anxious, stressed and worried about money to feeling calm and confident, with more money for the things you love?
I offer a 30 day money back guarantee, so you have time to complete the entire course, and still ask for your money back, if you are not 100% happy.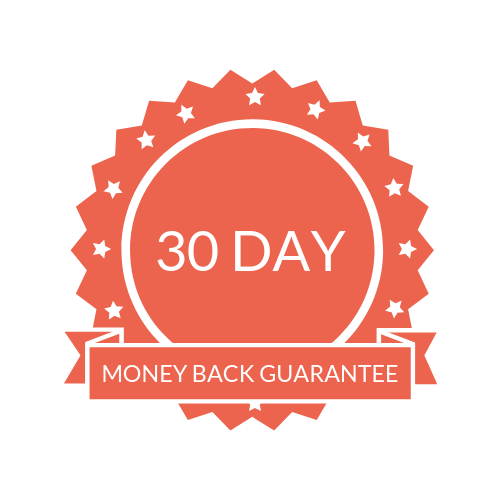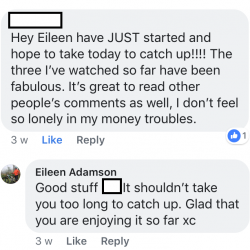 "Thank you for running the Take 5 challenge.  It has certainly helped me to feel more positively about money and I have made changes which I am excited to build upon"
Gill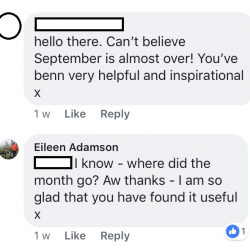 FAQs
When does the course start?
You will get immediate access to the money course, and you will also have lifetime access to it.
I'm interested, but I just don't think I will have time for it. What can you suggest?
If money is holding you back, then you have to make time to change it.  The course fits around hectic lifestyles, with 24/7 access available on phones, tablets and PCs.  Get up half an hour early, switch off the soaps, do it during lunch break or make time at the weekend.  It will only take a few hours and I promise it will be worth your while.
I love the sound of it, but it just seems so hard to take the plunge. Have you got any advice?
Clients describe my courses as exciting, motivating, inspiring and life-changing. The hardest thing is making the decision to join – once that's done, the rest is easy!
Why can't I learn all of this myself from books and internet? Why do I need your course?
Lots of the information on the course can be found on the internet. However, the step-by-step process, with thought-provoking questions, makes this a personal and valuable resource. The course ensures that you move through it quickly and efficiently, saving you hours of time.
Why should I invest the money in this course?
85% of previous clients say that my courses are EXCELLENT value for money. You can be confident that you are making an amazing investment in your future. Remember I offer a full 30-day money-back guarantee. If you complete the course and are not 100% happy, please send me your completed booklet and I will refund you.