How to Play World Environment Day Tag
The major issue of plastic pollution has been gaining much awareness lately, thanks to numerous documentaries and high profile campaigns. As we wake up to the level of destruction to our planet caused by single- use plastics, people are increasingly switching to reusables. Hooray! Join us in this global game of tag by sharing photos of your reusables to help #beatplasticpollution Let's play!
The Rules
All games have rules   These ones are very simple… 1. Take a photo of between 1- 3 reusable items that you personally have switched to, in order to help tackle plastic pollution. 2. Caption your photo with a short message to raise awareness. 3. Also include your top tip for beating plastic pollution. 4. Share your photo and caption, along with your top tip, tagging at least three other people. 5. Please also link back to me in your blog post and tag me on social media, thank you!
Every single one of us is the problem.....and the solution
It can be tempting to think that each one of us don't actually cause the problem, and that the main polluters are "other people".  It can also be easy to do nothing about it, because the problem seems so large, and therefore doing your tiny wee bit seems utterly insignificant.  However, I think it is vital that we all take responsibility, and that we encourage our children and families to do the same. Seeing all the pictures in the media of what were once beautiful sandy beaches, now littered with tonnes of plastic waste or videos of marine life being "snared" by plastic straws and bottles, surely tugs on your heartstrings?  We need to make changes, and we need to make them more often, on a bigger scale and soon, or our environment will be ruined forever.
What have I been doing?
In recent years, I have been switching more and more products to environmentally friendly ones, as well as becoming more responsible with recycling.  The photo below shows 3 of my favourite environmentally friendly products.
My Mooncup
I switched to using a Mooncup 14 years ago, and truly love using it.  To find out more about my Mooncup, and other environmentally friendly sanitary products please read my blog post about "Period poverty, plastic pollution and a Mooncup fire!"
My Ecoegg
I only started using my Ecoegg
earlier this year, and I have to admit to loving it already.  I was a bit skeptical that this egg, would actually clean my clothes efficiently, but it has surpassed my expectations.  Our washing is as clean as ever, I genuinely can't fault the egg at all, and it only costs 3p per wash!  Even our filthy mountain biking kit comes out as clean as it would with washing liquid. It sometimes requires a second wash, but when you see the state of it going in, you can totally understand that!
My beautiful flask!
I recently received this gorgeous flask as a present, and I just love it.  It's a metal flask, so will last me for years, it keeps my water cool for up to 24 hours and it even looks pretty!  After a hard shift on the mountain bike, it is amazing to come back to the van, and have a long cool drink of water waiting for me!
My top tip
Start looking for ways that you can switch your everyday products to being more environmentally friendly.  There are some companies out there, who are doing amazing work, to help our environment, while still providing us with good quality products that we have come to rely on.  People Against Dirty is a company who provide us with high quality, environmentally friendly cleaning products, through their two brands Ecover and Method.  I have gradually started using their products and have to say, I have loved everything that I have switched to so far.  My favourite is this clementine surface cleaner - it works brilliantly, and it smells amazing!  Although I love many of their scents, I think that Method's Clementine range
is my favourite.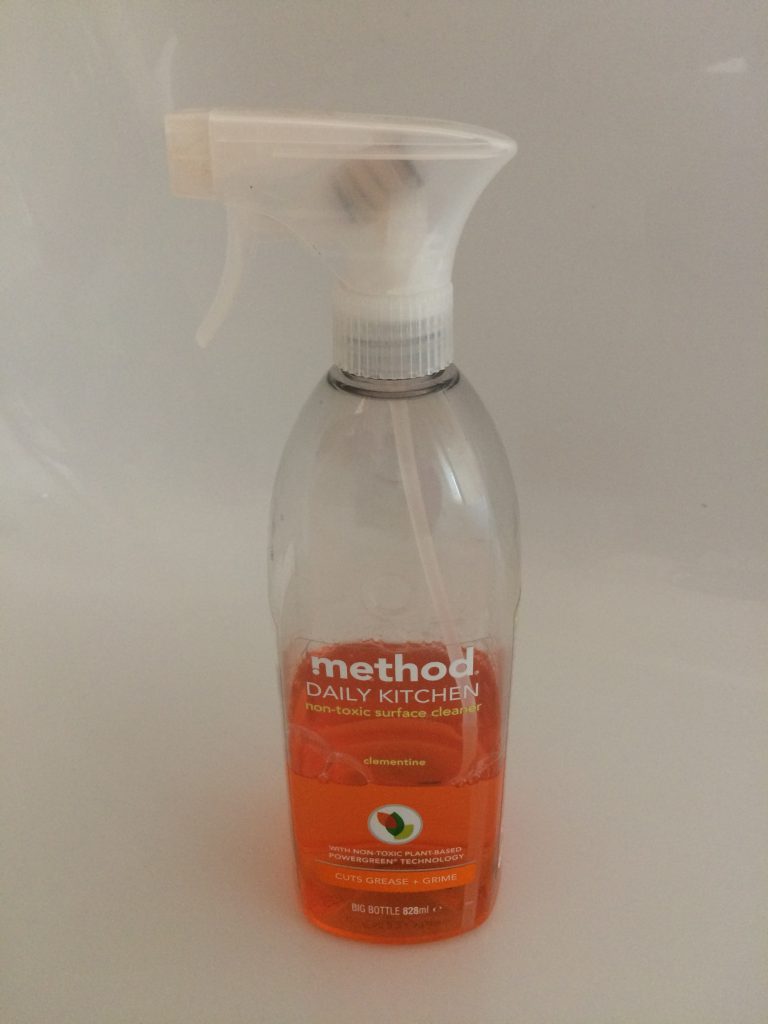 So, what can you switch to today, to do your bit to help the environment?
  Tag, you're it! Now I am tagging the following lovely bloggers to take part in this World Environment Day tag … Mel from More Organised Faith at Much More With Less Thanks to Clare for tagging me – Freddies Mummy UK