Claim your freebie!

Teachers' Retirement Planning

Can you retire when you want to?

Find out your pension's worth

Get state pension statement

Calculate ideal retirement income

Estimate retirement income
Take a course!

Who is it for?

a UK based teacher who wants to retire early

How will it help?

know your ideal and predicted income in retirement

be empowered to take more control of your own retirement

identify the steps needed for an exciting, well-deserved, early retirement
Was I brave enough to get out of teaching?
I vividly remember going into school every day and moaning constantly.  Life, at that point, was pretty tough in our school.  Many staff were dissatisfied, felt unsupported, under pressure and as a result, unhappy in their posts.  Many were looking to get out of teaching too. I knew there had to be more to life, but I wasn't sure what to do.  
I had a 6 year old, 4 year old twins and a self-employed husband to think of too.  I had to stay in teaching, because my husband's income varies and the construction industry wasn't in a good state. However, I knew that something had to change. 
I couldn't live like this forever. Moving schools was an option, but having worked with a fantastic department, I didn't fancy it. It's a stable career.  The pay is a lot better than many other jobs.  The holidays are pretty good for childcare!
Was I brave enough to get out of teaching?
I just wasn't sure!  However, I knew that something had to change. I have always loved numbers – my favourite subjects at school were PE, Maths and Accounts.  Apparently a weird combo, but there you go! I did a bookkeeping course, and the following August I reduced my teaching commitment to 0.4 and started a bookkeeping business.  I loved the bookkeeping; it was fun, flexible and family friendly.  It worked well for us, and I was much happier at school. While I didn't totally get out of teaching, I felt more able to cope with it on a part-time basis.
Happier family life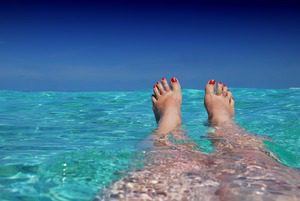 This life change kept our family happy for years, and although we had to make financial sacrifices, we were quite happy. However, as the years passed, we were under more financial pressure – impending university costs, thoughts of our future planning and summer holidays. 
We'd given up foreign holidays for years, but I was almost desperate to see the sun.  University costs and retirement provision were causing real concern.  As someone who craves stability and security, these issues needed to be solved, or I knew I would never be happy.
I toyed with teaching full-time again, and going for promotion, but eventually ruled this out.  I have got used to working for myself and I love the flexibility, as well as the responsibility and challenge that it brings.
It had to be another business then.  I don't think I am exaggerating when I say I had hundreds of business ideas going through my head.  From one hair-brained scheme to the next, I eventually came up with Your Money Sorted. A business to help other female teachers to manage their money money better and live happier, healthier and wealthier lives.  Maybe even get out of teaching, if that is what will make them happier.
In November 2014 I started my new business and from then on it has been plain sailing!
Well, not quite!  It has been a huge learning curve, with many new skills to learn.
There have been times I have tempted to throw in the towel, but I haven't!
Firstly, I knew back then that I had to get out of teaching full-time.  That was a no-brainer!  But do you know what is a lovely benefit of part-time teaching?  It's the fact that I genuinely LOVE teaching again.  I love going to work; I love working with the kids (sorry students!); and I love being in school!
Another reason is that I keep remembering my goal – in 9 years' time I want to be heading off in that camper van. The other thing that keeps me from jacking it all in, is the feedback from my clients. It has been amazing since day one and it truly reminds me WHY I am doing this.  I need to keep doing it, because there are so many people who need my help to transform their lives.
Keep moving forward
However it wasn't working the way it should.  Various marketing experts had told me I needed to share more of myself and my story, but that was out of my comfort zone!  Eventually I had to accept that these experts were right. 
Which brings me to the thing that I find most difficult. Sharing my thoughts on the www doesn't come easy to me.  I am Scottish – we don't really like the limelight and we are notoriously bad at promoting ourselves.  But, in order for my business to succeed, I have to put myself out there.
It's hard; I don't like it; it scares me!  However, no matter how scary it seems, I just have to hit that publish button. Does it still scare me? Yep. Every time. Does it make me feel uncomfortable? Again, every time!
But do you know what?  The more I do it, the easier it becomes.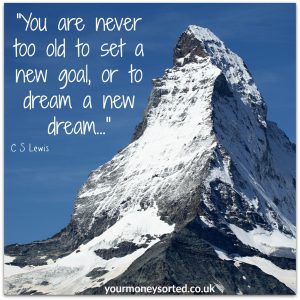 I can't imagine that it will ever become 2nd nature, but it is definitely less scary than it was to begin with. It's good to push yourself out of your comfort zone – it's the only way that we can change. It's the only way that we stay young, vibrant, full of fresh ideas.  For me, growth and change are vital.  I have learned so much over the past few years since getting this business up and running, and it feels good!
That is my message to my clients - change is not easy.
It will feel difficult, sometimes it will feel uncomfortable, but the end result will be worth it.
So my questions to you are " Are you unhappy with the way your life is?" Teaching is a wonderful career, but it can also be incredibly stressful. The pressures from home, combined with pressures at work, can often suck the joy from the job we once loved.
"Do you feel trapped and unable to move forward?"  So many people that I work with feel trapped because their money situation is keeping them stuck.  They have bills to pay, obligations to meet and children to think of, so they stay in jobs they are not enjoying, purely because it pays the bills. Or they have so many debts, they can't consider taking a drop in wages or a drop in hours, even if it would improve their mental and emotional wellbeing.
Having your money situation under control can give you the security and the freedom to make better choices for you and your family.
"Are you putting things off because they seem too difficult?" It often seems easier to keep doing what we do, because the alternative is too scary. 
However, as teachers we are intelligent, resourceful and we CAN make a difference in our lives. 
Start with this simple question "What can you do today that would help you to start solving the problem?"
I have created a Finance for Freedom coaching booklet, which might just inspire you and support you to take that first step.
If you would like to create some financial freedom for yourself then why not start with my Finance for Freedom freebie. It will help you to start to make exciting plans for your future and help you to identify the steps you need to take to make them happen.
Put yourself out there and do it!  You will be rewarded for being brave!
If you would like some encouragement and support, then why not pop along and join my women's only Your Money Sorted group and find other like-minded teachers.
Eileen x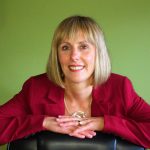 I am Eileen Adamson, a Your Money, Sorted coach, working online with UK based women, helping them to develop a better relationship with money.  By gaining an understanding of how their personality affects the decisions they make, I can help them to implement changes which will allow them to feel calm, positive and confident that they are in control and making good financial decisions.  I can then support them to put into place simple strategies that will allow them to manage their finances effectively on a daily basis and create a stable, secure and exciting future for themselves.