Claim your freebie!

Free Emergency Fund Challenge

Add £500 to an emergency fund

Be calm & more in control

Be able to make good financial decisions
Take a course!

Who is it for?

a busy woman struggling with money, with no time to fix it?

How will it help?

quickly reduce anxiety & begin to feel more confident with money

implement simple systems, saving time & money with easy to follow money tips

start paying off debt, build emergency savings & security
How to get fit?
That is the question that is on so many people's lips at the minute.  As the excesses of Christmas catch up and the jeans are straining at the waist, our mind turns to how to get fit.  One of the first things that we think about is joining a gym.  Surely paying vast sums of money for gym membership, will encourage us to workout on a regular basis?
Well, it doesn't seem to work!
Gym membership increases at the beginning of the year. According to the Fitness Industry Association, 12% of all gym memberships being taken out in January.  Research by British Military Fitness showed that by the end of the month 59% of males and 12% of females had already quit their new fitness routine. 
Sadly, many of these people will be continuing to pay their gym memberships, despite not attending the gym.  This represents a huge amount of wasted money, that could be better spent elsewhere.
Being a PE teacher, as well as a money coach, it is not surprising that I totally advocate exercise.  I would recommend that everyone does something to keep them fit and healthy.   
I find the best answer to the how to get fit question, is to find a form of exercise that you truly LOVE.  Exercise should not be a chore.  It should be something that you look forward to, and really feel the benefit of having done, even if it feels hard at the time.
These are my favourite free ways of replacing a gym membership in your quest to get fit.

Walking
This is my failsafe suggestion for everyone.  It's suitable for most of the population, puts little strain on the joints and can be easily fitted into everyday life.  Make it part of your daily routine.  
Walk to work (or part of the way), go out each night after dinner, or join a walking group. 
Think about doing more strenuous walks at the weekend, by upping the pace, adding distance, or walking on different terrains.
To keep motivation levels up you could download a free app such as Fitbit.  This will track the number of steps you take, the calories you burn, as well as other health related information.  If you are a real stats junkie, then you might want to purchase a Fitbit.  This automatically collects the info through a band worn round your wrist, and means that you don't need to carry your phone around all day.

Cycling
This is another amazing way of exercising and is becoming increasingly popular.  If you don't already have a bike, then don't rush to buy a brand new one, until you have checked out the following options. 
There are a growing number of recycling schemes, where you can pick up refurbished bikes, for a fraction of the cost of a new one.
The local sales pages or freecycle are great places to start looking for free or good value second hand bikes.
The one thing you really must have if you start cycling is a good helmet – Wiggle or Amazon
offer a great selection of cycling gear at a range of prices.
To make cycling a fun and sociable activity, why not enlist some friends and make it a regular routine. With your friends by your side, it much easier to work out how to get fit! A wee cycle for a few miles, then a quick coffee, can make this form of exercise very sociable indeed.  Just don't spoil the benefits of the exercise by ordering a massive cake with your coffee!
If, like me, you have a wee competitive streak, then you will LOVE Strava.  This free app is amazing for recording your route, calories burned, speed and elevation gains.  It is also fantastic for comparing your times against all the other people who have done the same route.  This is great fun, and it's a great feeling if you can bag a couple of PBs, top 10 cups or even Queen of the Mountain crowns!
To keep up the motivation levels, why not think about entering a sportive with your friends – there are some great events all over the country, for people at all levels

Running
I have put this one after walking and cycling, because it isn't for everyone.  Running puts more stress on the joints than either of the other two. 
However, it is an amazing way of keeping fit.  It costs nothing (apart from investing in a decent pair of running shoes
) and can be easily fitted into a hectic schedule. 
Again, running is much more fun if you can do it with other people.  Check out the local running clubs, as most will offer beginner's sessions, which are great for building up slowly with lots of other like-minded people.  The support offered by running clubs is also fantastic for helping you to keep motivated and enthusiastic.
Again, there are some brilliant apps that will help to keep you motivated. Both Strava and the FitBit app will work for running too.  Endomondo is a brilliant, and free app, that will track your progress and allow you to compare your statistics from your previous runs.
Couch to 5K is a great app that will help you to go from a complete beginner to being able to run 5K in only 8 weeks. Over 5 million people have done it – so you can too!
Parkruns are now run (haha!) all over the country and offer a brilliant free way to experience running with others in a timed and weekly event.  Check the Parkrun website for more details and to see if there is one near you.
If you are walking, running or cycling with friends then why not set up a WhatsApp group?  This can really help with motivation!  Seeing that some of your friends are all going out can help you to get out and exercise too.  It's also great for organising post-exercise celebrations!

You Tube
I kid you not!  You Tube is a brilliant place for finding all sorts of free workouts. 
My favourites are the Fitness Blender workouts.  They have a huge variation of classes and exercises, at levels to suit everyone.  On their website, you can use their filters to narrow down the type of workouts you want to do.
The Body Coach TV is another fantastic resource on YouTube, where new HIIT workouts are posted on a weekly basis.  These workouts are specially designed to get results in around 15-20 minutes per session.  This makes them ideal for people who are leading a busy lifestyle (or who just want to get maximum impact in as short a time as possible!)
The BeFit channel is also a great free resource, which has hundreds of high-quality workouts.  Their 30 day 6 pack Abs, Be Fit in 90 (days), or Be Fit in 30 (days) extreme all have a series of daily workouts designed to help you make progress quickly.
Yoga with Adriene is also brilliant and she kicks off the New Year with a fantastic, free 30 day challenge.
Working out how to get fit just got a whole lot easier with these apps that will help you train
FitStar is a clever app, that will get to know you and your current level of fitness and then prepare customised workouts for you.  You complete a few workouts and record how you got on with these in the app.  It can then design your workouts, which are set are your current level, and are designed to help you to improve your fitness.
Who doesn't want a flat stomach?  It's the area that most women find difficult to keep under control.  
This app is designed to work totally on that area.  The Daily Ab workout offers hundreds of exercises and you can customise your own workouts, by choosing which exercises you wish to complete.  With a built-in trainer, this app will help to keep you motivated as you work on your 6 pack.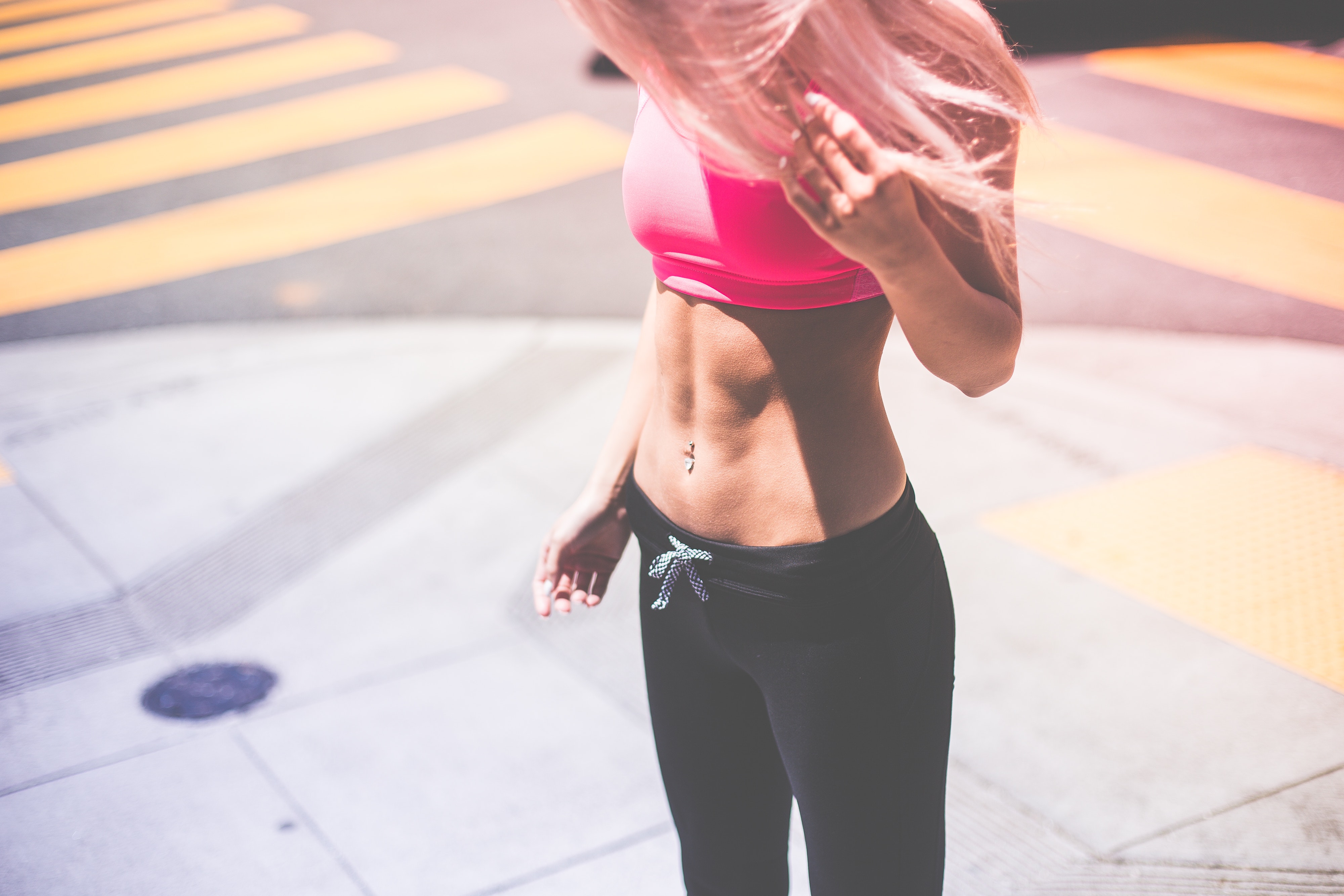 Another useful app
Another useful app helps to track diet and activity levels.  MyFitnessPal allows you to input physical information about yourself.  You set targets and then record what and when you eat. It also allows you to record your exercise sessions and how many calories you burn.  For people who want to lose some weight, eat more healthily, or increase their activity levels it is really useful. 
It is even better if a few of your friends are using it too.  Seeing that your pal has done a 3-mile run, will help you get your backside off the couch and into action!
I hope that this post has given you some fabulous ideas for how to get fit without breaking the bank!  If you have liked this post then please share it with friends to help them find out how to get fit without it costing a fortune.
Why not come and join my women's only Facebook group? There you can follow my other money inspired posts and meet the other women who want to improve their lives by making their money work harder.
Eileen x
I am Eileen Adamson, Your Money Sorted coach, working online with UK based women.  I can help you to develop a better relationship with money and feel calm, relaxed and positive about money.  This will allow you to feel confident, in control and able to make good financial decisions. Through creating a good relationship with money you can then live the life that YOU want to lead.