Claim your freebie!

Free Emergency Fund Challenge

Add £500 to an emergency fund

Be calm & more in control

Be able to make good financial decisions
Take a course!

Who is it for?

a busy woman struggling with money, with no time to fix it?

How will it help?

quickly reduce anxiety & begin to feel more confident with money

implement simple systems, saving time & money with easy to follow money tips

start paying off debt, build emergency savings & security
Goal setting is talked about in many areas of life, but today I am going to show you how setting financial goals can really improve your financial situation.
The first 6 months of this year are amazingly busy for us.  We have 3 weddings, 2 weekends away for friend's birthdays (50? It doesn't seem like that long since we were 30!), hen parties, a family holiday at Easter, weekend break with extended family, various parties and other social events!
I did say, earlier this year, that I wanted to spend more time having fun and less time working, so that is certainly happening.  However, the finances are taking a bit of a battering!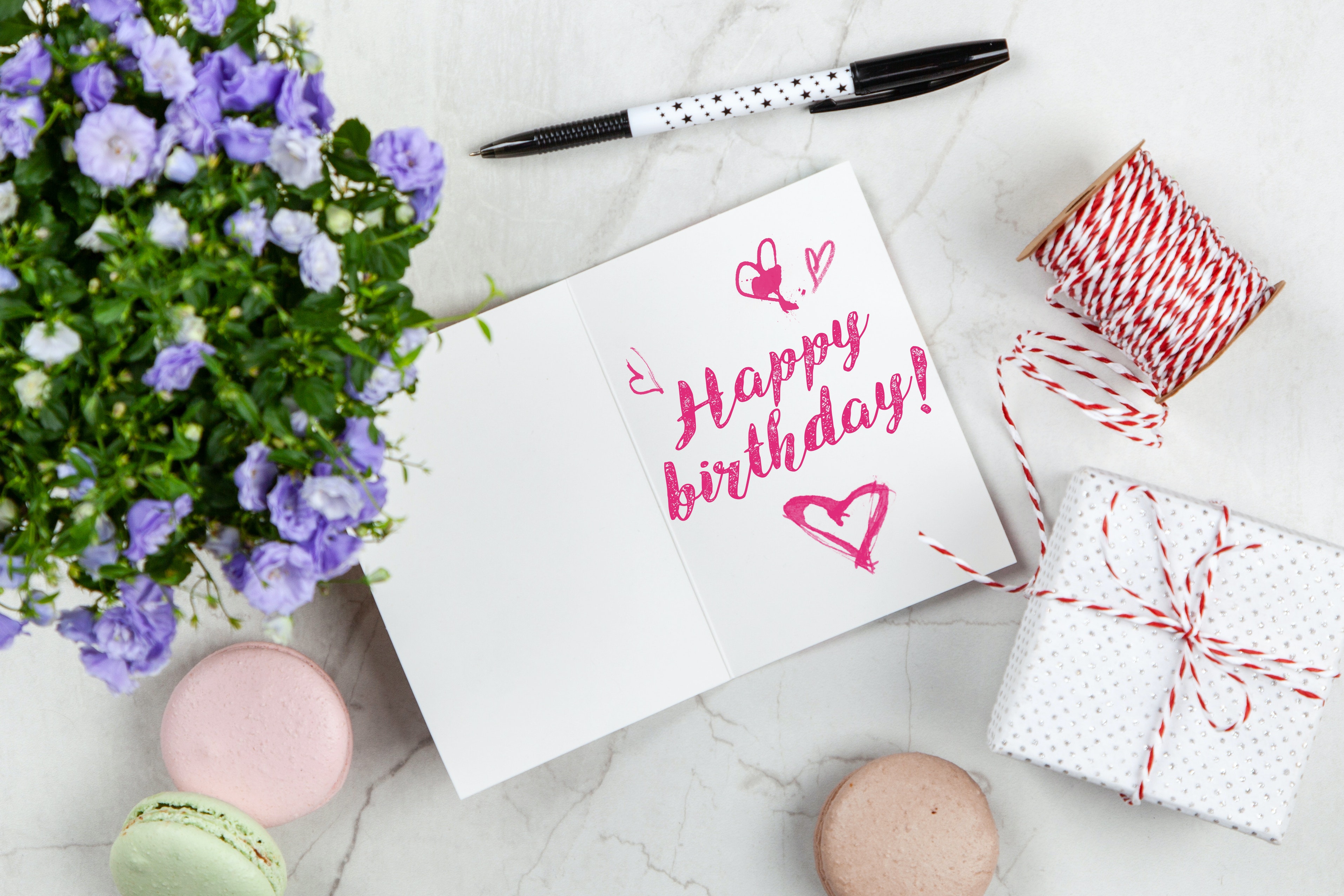 Now I am sure you are wondering what on earth has this got to do with setting financial goals?  All will be revealed!
I decided at the beginning of the month that a bit of extra cash would allow me to enjoy all the fun, without worrying about money. I knew that the best way to do this was setting financial goals for the month. Without this, I knew that I would just think about saving money and it wouldn't really happen.
On the 1st March I set myself a goal of making/saving an extra £800 in my personal finances by 31st March. Now, even as I was writing it down, I was thinking "that's ridiculous – there is no way I can find/save that much extra."
However, I also know how powerful having a goal is, so I decided that stretching myself was the way to go.
Firstly, I broke it down a little to make it seem more manageable. £800 in March is equal to £177 a week or £25 a day. To me that made it seem a little more achievable. Could I think of 2 things that would bring in £177 per week and 17 things that would bring in £25 a day? It still seems a lot, but undaunted, I started the process!

Brainstorming
This involves writing down every possible way that you can think of to spend less money or to bring more money in. Write down anything that pops into your mind, even the ideas that seem totally ridiculous. That crazy idea could just turn into something amazing. When I did this I came up with loads of ideas – some of which you can see in the photo (if you can read my scrawl!)
Narrow it down
Decide which of these ideas you would like to try………and just get started! Make a list of actions that you need to take for each of your ideas, then grab your diary and start planning when you will do each thing. The simple act of writing it down and giving it a time slot means that it is much more likely that you will complete that action.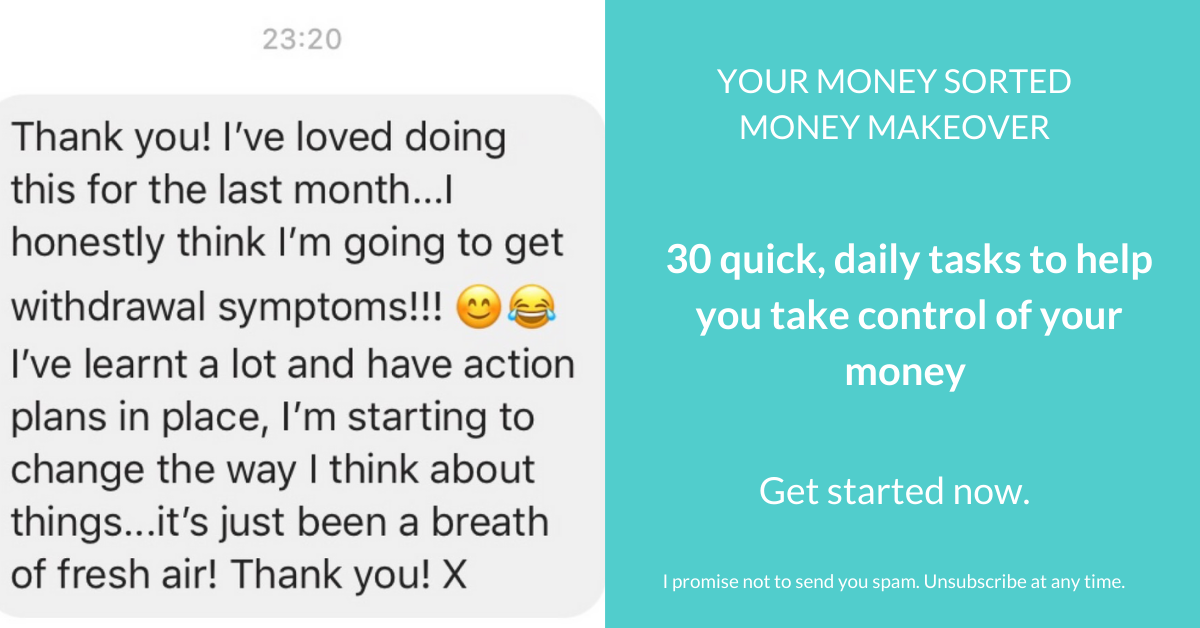 My action plan
Firstly, I decided to start with de-cluttering, even though I don't actually have very much to de-clutter, having had a massive KonMari tidy last year. However, I still managed to find a few items that we no longer have any use for and I started to sell them. After checking eBay to see how much they are selling for on there, I listed various items on our local sales page on Facebook.
Although I may have got slightly more for them on eBay, I couldn't be bothered with the hassle of postage.  I decided just to get rid of them as easily as I could. Our keyboard sold really quickly and suddenly I was £60 up! The other items didn't sell immediately, but after posting them a couple more times, we got rid of a bike and a cat carrier, giving us another £90.
Big target
The fact that I had my £800 target in mind, meant that I was much more determined to sell the items.  I was keen to post them another couple of times just to get the items sold. If I had not had my goal, then it's likely I would not have persevered when no-one showed an interest first time. This was a great start and certainly gave me a wee boost. Only £650 to go!

Track your progress
If you don't already have a savings account, then open one. (That could net you a cool £200, but we will look at that later). Transfer any savings or income over to that account and watch it grow throughout the month. Simply seeing the total grow will keep you motivated and keep you pushing for more. Another great way of tracking your progress is by using an app to record your "wins." I recorded my Facebook sales on the app, then popped the money into my bank. It makes a very satisfying clinking cash sound as you record it!
Cutbacks
I also decided that we needed to make some cutbacks this month, to help me reach the goal. Out went my Pound and Buttkick classes and in came my trusty Fitstar app and Fitness Blender workouts. That was an immediate saving of £50 this month, so that got recorded on my app.
An easy way for us to save this month has been eating 2 dinners from the freezer and cupboard only. It's amazing how many tasty concoctions were lurking in the depths of my freezer and cupboard, allowing us to pop another £40 into the savings this month.
Dougie and I are just reaching the point in our lives that we can leave our kids at home, while we enjoy some time together. We recently started going out for a couple of tea-time pints.  It's lovely to be able to spend a couple of hours together and then come home to our tea cooked by the kids. (OK, so that happened once – normally we come home to discover they still have their faces stuck to their phones and have forgotten to put the oven on!) Still, it's lovely to be out.
However, we decided to do without our wee "date nights" and instead invest the money in our very hectic social life. Another £40 in the fund!

Money for nothing
Another job that I had to do this month was to book my car hire for our summer holidays, so this actually allowed me to gain a little in extra income as well. I compared prices online and found the best price I could get, then checked to see the price by going through Top Cashback. It was exactly the same price as booking direct, and I got £41.07 in cashback for booking through Top Cashback.
Adding this to the other transactions that I have made through them this month has given me a total of £46.52.
A useful wee saving technique that I have been using this month is skimming my current account. Each night I have logged in to my bank and rounded my balance to the nearest even number and so far I have skimmed £37.21 into my savings account.
If this money was left in my current account it can easily get spent, but by skimming small amounts at a time, I don't really notice that it's gone and it adds up by the end of the month.
Making good progress
I haven't really done anything drastic, but I am nearly halfway to my target of £800, which is helping me to keep focused and motivated. One thing that I have been meaning to do since Santander cut their interest rates was to switch bank accounts.
The lure of £200 from HSBC towards my £800 goal, proved to be stronger than the apathy that I had previously shown, and 10 minutes later the online form was filled in and I will be £200 better off for my troubles.
A scary move
Another thing that I have thinking about doing for months, but haven't got around to, is matched betting.  Having read the posts from those doing it, I liked the idea of a tax-free guaranteed profit. I kept putting it off, because, quite frankly, it looked very complicated and it scared me!  
However, having that £800 goal has certainly pushed me out of my comfort zone, and into a place where I am keen to take actions that will help me to achieve my goal. What I hadn't banked on though was the sheer terror that I would feel as I went through the process of making my first bets! I was genuinely terrified that I would get it wrong, that I would press the wrong button and that I would end up losing money rather than making it.
However, after a couple of hours of reading the instructions, and re-reading the instructions, and re-re-reading the instructions, I made my first bet. I had deposited over £100 of my own money in various betting sites and all I could do was wait and hope that I had followed all the numerous steps correctly.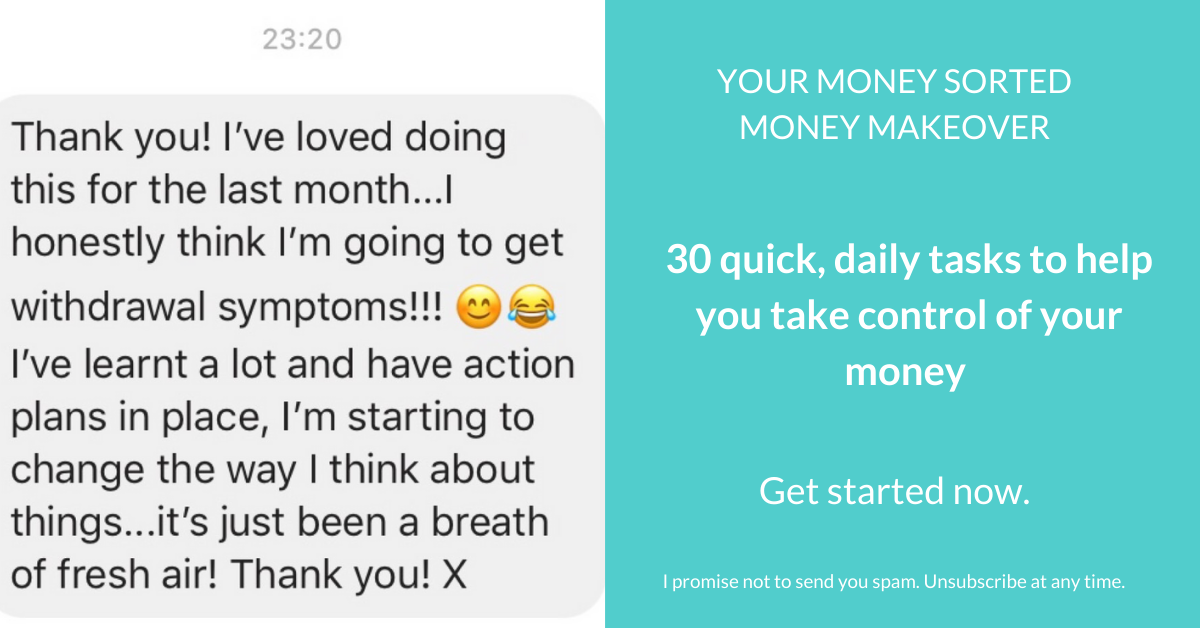 Hurray!
I was jumping for joy after all my matches had been played and it worked! My first matched bet had netted me a profit of £30.65, which felt like a tiny sum, when I considered the stress it had caused me! However, I knew that it worked, now understood the process, and felt much better about continuing to make matched bets. Buoyed by my early success, I have since done another few bets and have made a total of £75.24 so far, however, I think that the stress it causes me means that it is not for me!  The other thing that concerns me about it, is the fact that it could well lead me into actually gambling, which will all know is a mug's game.
The final push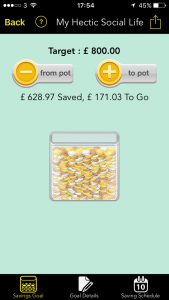 Here I am with 7 days to go and I still have £171.03 to find. Can I do it? Yep, you are blooming right I can.
I was listing a few things on eBay this morning and I am hopeful that they will sell. I also have another couple of things up my sleeve that should help me to reach target.
The power of goal setting is that I have kept myself focused this month. I know exactly what I need to achieve – it's just a matter of working out the steps that I need to take in order to achieve it. Once I know the steps, it's then about taking action and getting on with it.
Moving on
I am setting financial goals each month now and will think of other ways to achieve them.
As Michelle, who blogs over at Pounds and Pence, says "Setting goals is soooo important. I remember somebody once saying that not setting goals is like trying to find somewhere without a map.  You'll never get there without one."
So what about you? Where is your map taking you?  Would you like to save money towards a holiday? Or perhaps pay off some debts? Or start building an emergency fund?
What about saving some money just for you, for guilt-free spending on yourself?
Whatever you would like to achieve, you are much more likely to do it if you do the following 3 things:
1 Publicly declare your goal
2 Make an action plan
3 Find support and encouragement
Setting financial goals is powerful.  Letting the universe know exactly what you want is powerful.  Being very specific is powerful.   To see how I got on with my challenge, check out how my financial goal helped me to save £800
Why not set yourself a goal for next month?  Pop along to my Your Money Sorted Facebook group for support.
  Eileen x 
I am Eileen, Your Money Sorted coach, working with UK based women helping them to become financially empowered.  Being calm, confident and in control of their finances, allows them to concentrate on the things that are important to them. Previous clients feel that they can spend more quality time with family, friends and having fun. That has to be a great thing doesn't it?