Claim your freebie!

Improve Teacher Wellbeing

10 simple habits you will love

Feel more in control of life

Feel happier & more content

Feel more positive about school

Start taking control today
Take a course!

Who is it for?

a female teacher, wanting to feel calm & in control of your money

How will it help?

feel good about money, enjoy life more and feel like YOU again

reduce stress levels & create time for you & your family

pay off debt, make smart savings & build wealth
Teachers and money is something that is not often discussed in the staffroom.  A classroom teacher in Scotland, at the top of the scale, will earn just over £41,000 in 2020.  With this being around £10,000 - £11,000 over the average monthly UK salary, many think that teachers should have no money worries.
However, this is not the case.
Teachers are struggling with their money, just like many other people in the UK.
Why is this?
It's because it's not about how much we earn, but about how much disposable income we have after our basic needs are paid for.  The costs of being a teacher can be greater than in some other professions, giving us less disposable income.
Pensions
Firstly, we pay more into our pensions than many others.  Contributions are between 7.2% and 11.9%, meaning a fair chunk of a teacher's salary goes towards their retirement plans.  In the new auto-enrolment pension scheme, the minimum contribution level for employees is currently 3%, rising to 5% shortly.  Obviously, we will see the benefit of paying more into our pensions when we retire, but it is still a factor in why many of us are struggling to live on our current salaries.
Housing
Teachers are needed in every area of the UK, even in the areas where house prices are extortionate.  Some teachers have no option but to live in these areas and are struggling to pay huge mortgages or massive rental payments each month.
Transport
Many schools are inaccessible by public transport, and even if they were, transporting books and supplies back and forth is much more difficult without a car.  Large numbers of teachers need a car and with that a monthly cost that cannot be done without.  Interestingly, if you look round most school car parks, you will see very few "fancy" cars.  Many teachers are driving cars that much of the population would scoff at.  If you haven't noticed this, then just have a think about your staff car park - how many big, fancy cars are in there?
Further Education
All teachers have gone to University, and therefore many of their offspring will follow in their footsteps and go onto further education.  Households earning over £25,000 are expected to contribute up to £5,000 per child, per year to their children's further education.  This means that as well as paying back their own student loans, those with children already in further education are paying large amounts of their salary to this, and others are stashing money away for future university costs.
Teachers and money
There is also a standing joke in teaching that it is the only profession where we steal supplies from home to take to work!  There is no doubt, that teachers spend a good bit of their own money on their students.  While this is not an absolute need, it is something that many teachers feel they have to do, with ever-decreasing school budgets.
Holiday cashflow
Holidays also bring an extra challenge to our cash flow and put an added strain on our finances.  Being on holiday costs more than being at work, and that odd coffee and lunch out can really add up.  These costs are obviously optional, but it does put an extra strain on teachers and their money, and it is one that very few teachers stop to think about. This is not meant to be a moaning, poor old teachers, post, but simply a look at the reality of the situation.   
Many of us are finding it difficult to manage!
The following tips for teachers and money, will help you to have more money in your pocket. 
1 Maximise your savings
We know that being on holiday is more expensive than during term-time, so why not start planning for that.  This could be planning for going away on holiday, or it could simply be planning to have a little more money to spend while you are off school. My two top tips for this are:
Pay yourself first
Set up a standing order, immediately after payday, into an account that is reserved for holidays.  Once the money has gone from your account, you are unlikely to miss it.
Get a little help from your friends
This is just the easiest and most fun way of saving I have ever found.  Plum and Chip are automated "bots" who get read-only access to your bank account, analyse how much you can afford to save, and automatically transfer money from your account every so often.  I have saved over £1800 in a year, using these 2 apps, without really noticing.  The money is kept in a Barclays bank account, and is protected up to £75,000 by the FSCS, just as other banks are.
2 Reclaim tax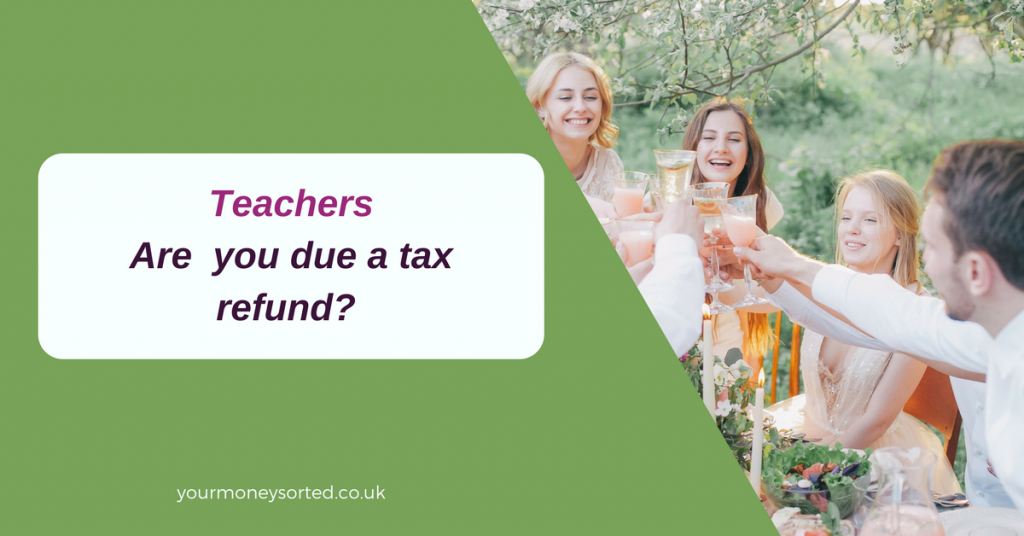 Teachers are entitled to tax benefits on professional subscriptions, and in some cases, work clothes.  Many teachers are not aware of this benefit, and some do not think it is worth bothering about.  However, the average tax rebate is between £200-£250, so it is certainly worth claiming if you have not already done so.  Once you have claimed, HMRC will continue to adjust your tax code to allow for this benefit each year. Downloading my template letter, along with details of how much union fees you are likely to have paid, and sending it to HMRC will take you 5 minutes of your time.  HMRC will then send you a refund.
Click here if you prefer to read more about the other options for claiming back this tax.
3 Maximise available discounts
There are masses of discounts available to teachers, that are often overlooked.  Getting into the habit of thinking about possible discounts every time you spend money is a brilliant way of saving money.  Examples of discounts available to teachers are 30% off Hilton hotels, 20-30% off phone contracts, and 10% off Apple products.  There are also other things such as free will writing services, excellent life insurance and discounted travel that can really help teachers to make their money go further.  Read more about the discounts available.
4 Check that you are getting the best mortgage deal
This is a biggie!  Are you paying more for your mortgage than you need to be? The average house price in November 2017 stood at £226,000 and the average outstanding mortgage £122,554.  A few simple calculations in a comparison site showed me that the difference between the cheapest and most expensive mortgage I could get were £501 PER MONTH!
That's not a misprint! 
Depending on the deal you choose, and the mortgage provider, you could be paying £460 per month or you could pay £961.  For buying the same house, at the same price and paying it over the same period.  
Which monthly figure do you prefer?
If you have found these tips useful, you might like to join me over in my Your Money Sorted Facebook group.  I help UK based female teachers to make the most of their money and become happier, healthier and wealthier.
Eileen x