Claim your freebie!

Free Emergency Fund Challenge

Add £500 to an emergency fund

Be calm & more in control

Be able to make good financial decisions
Take a course!

Who is it for?

a busy woman struggling with money, with no time to fix it?

How will it help?

quickly reduce anxiety & begin to feel more confident with money

implement simple systems, saving time & money with easy to follow money tips

start paying off debt, build emergency savings & security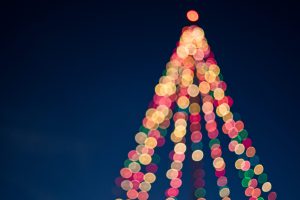 I am having a bit of a rant this year, as I think about how to spend less at Christmas.  This whole business of expensive advent calendars has really pissed me off. My original rant was about why I think social media makes us spend more money.  I have continued to think about this and it's REALLY annoying me. Unless you have got more money than you can shake a hairy stick at, then spending £100 on an advent calendar is just plain stupid.
Yep, you read that right!  Stupid!
If you have got all the money in the world, then fill your boots - spend your money on whatever makes you happy and enjoy every single minute of it. BUT if you are thinking about purchasing an expensive advent calendar, and are wanting to spend less at Christmas, are in debt or are putting it on a credit card that you don't intend to pay off in full, then read on. John Lewis are selling an Edinburgh Gin advent calendar!  When I discovered it was £100, there was no chance of me buying it.  Could I afford it?  Yes.  Would I have to go into debt to buy it?  No.  Does that mean that I should buy it?  No! However, lots of other people must have bought it, because it was out of stock and the number of people who said they had bought it on the Facebook post was astounding.
Why do I think it is a ridiculous amount of money to spend on an advent calendar?
Firstly, although I am not religious (though my mum did try her best by sending me to Sunday School for years.  I think that is probably what put me off religion!), I think that Christmas should be about giving, being kind to others and enjoying time with family and friends.  I don't think it should be about how much money we spend, or how much debt we can build up. But that's what's happening. Surely we need to spend less at Christmas?  There are more and more ridiculously priced items being paraded in front of our noses every day, and suddenly we begin to think that it is normal to spend that sort of money.
It just creeps up on us.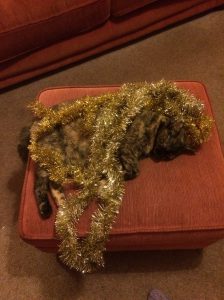 Printed advent calendars originated in the early 1900's and around half way through the century,  we started to see chocolate advent calendars.  These chocolate calendars have gradually got more and more elaborate, and more and more expensive.  Then a few years ago advent calendars with other goodies in them appeared - beauty products, toys, food and even ones for pets.  Now I love my cat, but I don't think she gets that excited about Christmas, and I don't think an advent countdown would help her to be any more enthusiastic about it! I think that it has now got to the point that it is bloody ridiculous.  I saw an article yesterday that said "you don't need to spend £100 on an advent calendar, because Aldi do a great one for £49.99"  But that's still FIFTY quid!  For an ADVENT CALENDAR! Then Fiona who blogs at Savvy in Somerset had seen someone on Twitter debating about buying a £300 Jo Malone advent calendar.......and she had loads of people egging her on to buy it!  THREE HUNDRED pounds!  You have to be "aff yer fucking heid", as we say here in Scotland!
It all adds up
Let's take a family with 2 kids.  5 advent calendars - Edinburgh Gin, craft beer, Lego, Playmobil and one for the dog! That's £224.50 for advent calendars alone.  And that was with only spending a tenner on the dog - I could have got one for £45! To me this is just madness.  The average family already spend nearly £650 on presents, food and other festivities.  I very much doubt that the cost of advent calendars will be included in this spending, because this spending is done so far in advance of Christmas. The average spend of £645 includes an average spend of £145 for their children.  That is not on each child, but their children in total.  Every year on social media we see discussions about how much money people spend on their children and, every year I am shocked about how much some people spend.  I have regularly seen posts from people who are spending HUNDREDS on their children.  You will have no doubt have seen the photos of houses on Christmas Eve with PILES and PILES of presents and parents arguing back and forwards about the rights and wrongs of it.
It's all relative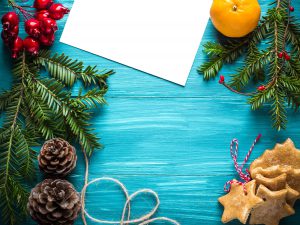 Yes, people are free to spend what they are comfortable with, but what worries me is that people are getting sucked into spending WAY more than they can actually afford.  Research by uSwitch showed that 52% of people would still be paying for Christmas 2016 by Christmas 2017..  Seeing first hand the misery that is caused by people overspending and the subsequent joy and happiness that they feel when they get their finances under control, makes me feel that I have to speak out. To me, the thing that shocks me most is not the actual amount, but the percentage of income that people spend on Christmas. I won't bore you with statistics, but trust me when I say that, after housing costs are taken into consideration, an family with average earnings of £44,000, are spending nearly 5% of their remaining income on Christmas!  When you start to think about motoring costs, grocery shopping, clothes, holidays, and all the other things that we buy throughout the year, spending 5% of our income on ONE day is MASSIVE!
It doesn't have to be this way though.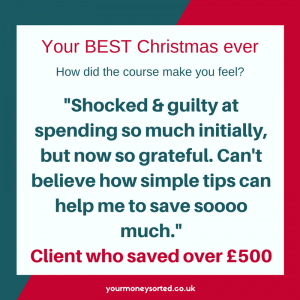 What I want to do is help people to spend less money, but enjoy Christmas more than ever!  That's why I have written a Christmas challenge.  It's a fun and thought provoking online course that will take you around one-two hours and could save you HUNDREDS of pounds!   This course is normally priced at £27 but I am offering a special discount to get the course for ONLY £7.
It's truly fab, so why not take advantage of this very special offer?

    I feel better now that I have got that off my chest!  If you enjoyed this post, then share it with friends who would also enjoy it. Why not check out this post for inspiration for how you could still have a lovely Christmas, without spending a fortune and with less stress than ever before Eileen x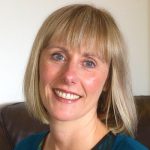 I am Eileen Adamson, Your Money, Sorted coach, working online with UK based women.  I can help you to develop a better relationship with money and feel calm, relaxed and positive about money.  This will allow you to feel confident, in control and able to make good financial decisions. Through creating a good relationship with money you can then live the life that YOU want to lead.