Claim your freebie!

Free Emergency Fund Challenge

Add £500 to an emergency fund

Be calm & more in control

Be able to make good financial decisions
Take a course!

Who is it for?

a busy woman struggling with money, with no time to fix it?

How will it help?

quickly reduce anxiety & begin to feel more confident with money

implement simple systems, saving time & money with easy to follow money tips

start paying off debt, build emergency savings & security
Having money for emergencies and to tide you over difficult times is something that many people aspire to have, but it often seems too difficult to achieve.  There is so much pressure on our pockets, that putting aside money for emergencies can seem either impossible or just too boring!  
Nobody really WANTS to have to put money aside for that rainy day, but when that rainy day comes it is a huge comfort to know that there is a stash of cash available to tide you through.  
And that rainy day has come for many and it will come again, so there has never been a better time to start that emergency fund.
I am going to show you a way of doing it that makes it easy and relatively pain-free. 
A way that will give you a free £10 to get you started!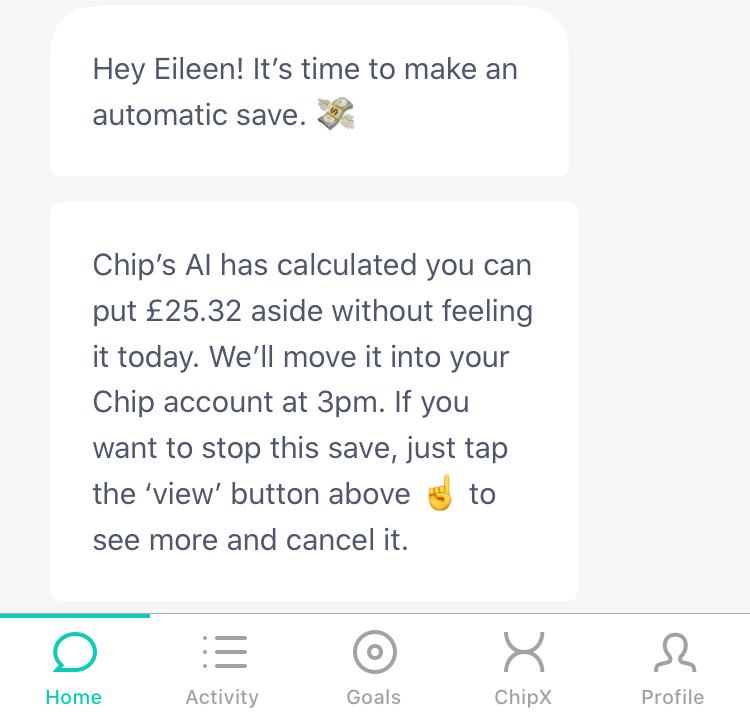 I have been using Chip since May 2017 and have stashed over £3,000 without really noticing that it was gone!  If that money had been left in my current account, then I know that I would have spent it.
Interestingly Chip's Chief Executive Officer, Simon Rabin, reckons the average user puts aside even more than that.  He said:  "We've found that the average Chip saver can put aside around £1,800 a year, without noticing it, which can be a very useful amount of money if you find yourself in a pinch."
It feels a bit bizarre saying this, but Chip feels like a friend!  S/he(?) messages from within the app to let me know that they will be moving some money from my current account into my Chip account. 
I can choose to stop the transfer if I don't want to transfer the money, but I never do this, because it defeats the purpose of setting Chip up in the first place.  The facility is still there though and it might give you some peace of mind if you were worried about Chip taking too much.  
On that note, Chip gives you the ability to choose which auto-save level you want ranging from "Take your time" to "Serious stuff", which means that you can choose gentle or aggressive Chip is with the amount it transfers to the Chip account. 
How to manage the account
As well as being able to save automatically, you can also manually add to your account by choosing "Manual save" on the activity menu.  In this screen, you can also withdraw your money back to your bank account and see a list of previous transactions alongside your balance.  You can also easily scroll along the handy graph to see the changes in your balance over time.  
Chip is very easy to use, but if you have any issues you can use the live chat facility to easily communicate with a very helpful team from Chip.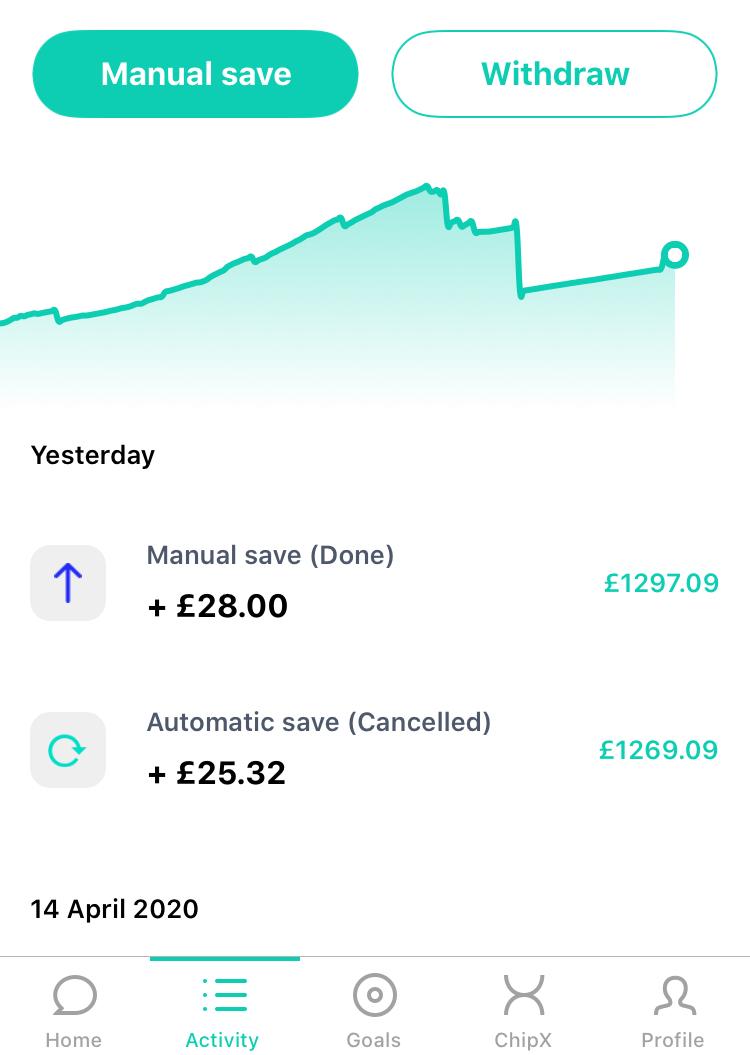 Chip works in partnership with e-money specialists, PFS (Prepaid Financial Services) and they store your money with Barclays bank.  Your money is in a "ring-fenced" account which means it can never be used for any trading activities.  
Chip has recently been registered with the Financial Conduct Authority, as an Authorised Payment Institution and its next step is to offer FSCS protection through partner banks.  
Chip protects your data using bank-level security and connects to your bank when you put in your bank details, but it doesn't store these details.  You can even set up a quick connection to Chip by taking a photo of your bank card.  
They can only move the money between your Chip account and your bank account.  This means that the money is always in an account that belongs to you, regardless of what happens.  
Helping you to reach your goals
I love the fact that Chip can help you to reach multiple goals, by allowing you to set up different goals for different things.  For example, alongside your emergency fund, you could put money away for a holiday, which might make putting away money for emergencies seem less painful.  It has a brilliant facility that helps you to reach multiple goals by helping you to allocate a percentage of your savings to each of your different goals.  
You can also change the photos on the goals to make them match your goal, giving you a pictorial image of your goal, as well as a monetary target.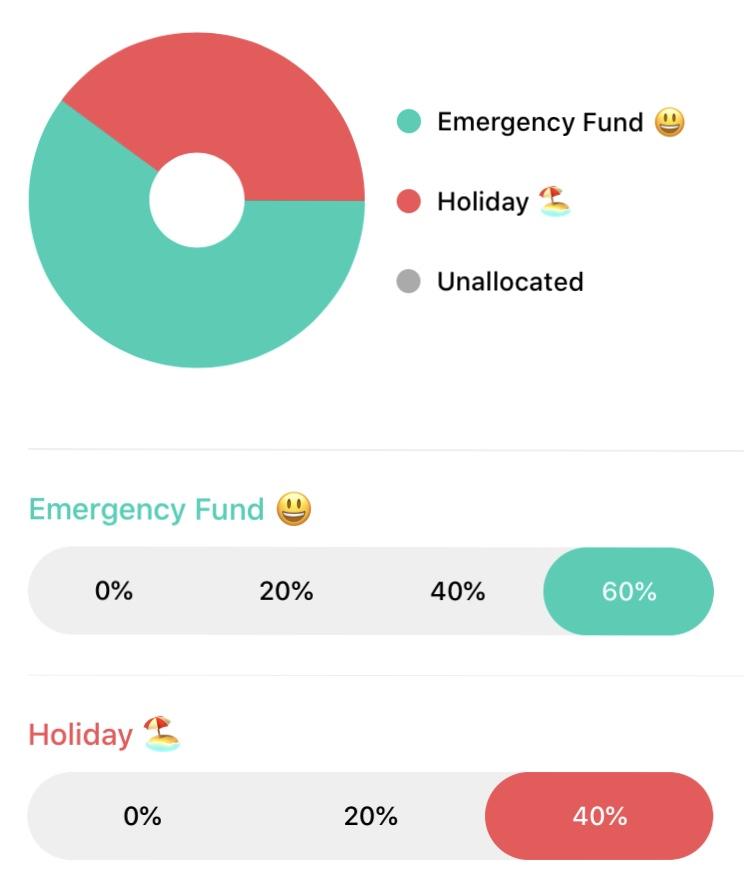 Save streaks - a genius new feature
This new feature will help lots of people to sash away more cash! 
If you stash away cash 2 days in a row, you have a 2-day save streak.  Chip will encourage you to keep up your streak by making a save each day and will encourage you even more by showing you how much you could save if you keep up your streak for 50 days, 100 days or even a whole year. 
Motivating, exciting and encouraging - a brilliant combination from Chip!
I have always been fairly careful with my money and thought that I couldn't save any extra money each month, but I was wrong!  Chip has been stashing away around £80-90 a month, every month since I opened it and I haven't really missed it!  I know that if that money had been left in my account, then I would have spent most of it.  
I think that it could help you too and Chip is offering a free £10 to anyone who signs up.  You will get the £10 credited to your account, within 30 days. 
Why not get started today putting aside money for emergencies and perhaps for some fun stuff too? 
Eileen X