Claim your freebie!

Teachers' Retirement Planning

Can you retire when you want to?

Find out your pension's worth

Get state pension statement

Calculate ideal retirement income

Estimate retirement income
Take a course!

Who is it for?

a UK based teacher who wants to retire early

How will it help?

know your ideal and predicted income in retirement

be empowered to take more control of your own retirement

identify the steps needed for an exciting, well-deserved, early retirement
This post is the first in a series of posts about how to make money now that can help you to prepare more effectively for retirement. Be inspired by Kerry from Money Saving Journeys and as she answers the question of "how can I make money" to allow me to have the life I want.
Tell us a bit about you and your family
Hello, my name is Kerry. I am married to my husband of 26 years and we have two boys ages 16 and 12. We both used to work full-time but on having our second child, we both moved to part-time roles to be able to look after the boys. I leave the house at 7 am and return at 2.00 pm. My husband then leaves for work and returns around 8 pm.
Where are you employed? What do you do?
I work in a UK University and I am a Secretary/PA.
What do you enjoy about this job?
I love the diverse range of tasks that I do every day. I love my colleagues and the friendly atmosphere and how they make me feel valued.
Tell us about how else you make money, apart from this job.
Money has always been tight, especially on two part-time incomes. I, in particular, had been wishing we could find ways of increasing our income but had mistakenly been looking at the more traditional routes. Since starting my blog in October 2016, I have entered into a world I didn't know existed – the online money making world. It still took me a while to get started but I created a 'Gig' which I offer on Fiverr.
When did you start this and what inspired you to do this?
I started around 3 months ago after reading about the website in Facebook groups and on other blogs. I decided I had nothing to lose by posting a gig. After I created my first gig I was excited, but…. nothing happened. Then just one month ago my gig was purchased for the first time and I got a 5 star review from the buyer. This seemed to start the ball rolling and now I consistently get at least one gig purchased each week. The gigs offered cost between $5 (£4) and $25 (£19). I then created another gig and am planning to add some more soon.
What do you love most about it?
I only offer gigs that I love to do. I can complete all the gigs on Fiverr in my spare time. You set your own time-frame for completing the gig, your own charges and you can pause the gig at any time, should life get in the way and you need a break, or you have too many orders.
What do you find most challenging about it and how do you overcome this?
I wouldn't say that I find anything challenging, other than having the time to plan new gigs. I am good at time management, which helps loads (as this is crucial in my day job too) and I love lists!
For many, the retirement age is now 67 or 68. Do you still see yourself still working at this age?
Yes, probably. There are still many things that I want to achieve or do and unfortunately, these things will require money.
What does your ideal retirement look like? When? What do you see yourself doing?
I am sitting on a beach, sipping a cocktail, with my husband and boys (except they will be grown men!). In front of me is my laptop which holds my online businesses. I want to continue making money well into retirement but I don't want the constraints of having to be tied to a desk. To make money whilst travelling is a dream of mine. I don't mind what age this happens, as long as it becomes reality and I will make every effort to achieve this.
What plans do you have in place to allow you to live this ideal retirement?
I am lucky to be in a Local Government Pension Scheme and have had a pension since I was 18. It is not just about the money though. I am not one to sit around, I have to be doing something and an online business that I can 'take' with me would be ideal. It would keep me occupied and make me money to follow my dreams. I am in the process of setting up two websites in addition to my blog. One is for me to build a business around my skills and the other is for my son and I to set up a business. He has some great ideas that I am happy to encourage him to explore.
Any other comments?
If you are looking to make an additional income, think outside the box. There is a whole world of ways you can make money and you don't need to focus on just one area. You might not become a millionaire overnight, but you WILL make money. Only you and the time you have to devote to it will limit your income. If you would like to read more about Kerry, then check out her website and her Facebook page. 
For further inspiration why not pop over to my friendly Your Money Sorted Facebook group - it's for women only and it will help you to have MORE money in your pocket to spend on the thing you LOVE.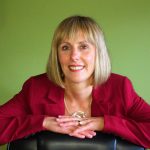 Eileen x
I am Eileen, Your Money Sorted coach, working with UK based women helping them to become financially empowered.  Being calm, confident and in control of their finances, allows them to concentrate on the things that are important to them. Previous clients feel that they can spend more quality time with family, friends and having fun. That has to be a great thing doesn't it?