Claim your freebie!

Teachers' Retirement Planning

Can you retire when you want to?

Find out your pension's worth

Get state pension statement

Calculate ideal retirement income

Estimate retirement income
Take a course!

Who is it for?

a UK based teacher who wants to retire early

How will it help?

know your ideal and predicted income in retirement

be empowered to take more control of your own retirement

identify the steps needed for an exciting, well-deserved, early retirement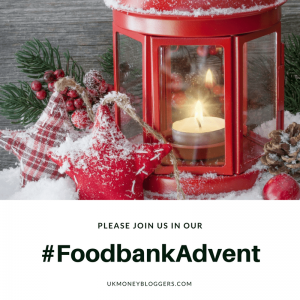 In the last few years we have begun to hear more and more about food banks and about how many people are having to rely on these. 
The UK Money Bloggers want to help, by encouraging our followers to donate to food banks, through our reverse advent calendar and the #FoodbankAdvent campaign. Read on to find out how to join us, and more importantly, WHY you should get involved.
The current situation
In the last financial year the Trussell Trust has given out over 1.6 million emergency food parcels to people in crisis in the UK, a 19% increase on the previous year. 
Of these, over half a million went to children. That's over half a million children who would go without food otherwise.
The problem of child poverty in the UK is real and it is affecting children in many classes all over the UK. 
Barnardos tells us that over 3.7 million children are living in poverty in the UK, with 1.7 million of them living in severe poverty.  Some might assume that all these are living in families who rely on benefits.  Although many are, 63% of these children are living in families where someone works.  They could have turned to a food bank for a number of reasons:  they have been unable to work due to sickness or job loss, the unpredictability of zero hours contracts or simply that they don't get paid enough to make ends meet.
The effects
It's obvious that a lack of nutritious food affects a child's growth, physical development and health.  But we must also consider the effect that it has on the educational attainment of our children living in poverty. Barnardos research has shown that:
"Only 48 per cent of 5 year old's entitled to free school meals have a good level of development at the end of their reception year, compared to 65 per cent of all other pupils.
Less than half of pupils entitled to free school meals (just 34 per cent) achieve 5 GCSEs at C or above, including English and Maths, this compares to 61 per cent of pupils who are not eligible."
Education Policy Institute research published in "Closing the Gap?  Trends in Educational Attainment and Disadvantage" shows that in England "disadvantaged pupils fall behind their more affluent peers by around 2 months each year over the course of secondary school." 
For the most disadvantaged the gap in educational attainment has widened to a difference of over 2 years of learning, by the end of secondary school. Research by the Joseph Rowntree Foundation showed that in Scotland "Children from deprived households leave school earlier. Low attainment is strongly linked to destinations after school, with long-term effects on job prospects."
A mountain to climb
It's clear that from birth, through primary and secondary education and into adulthood, our children from poorer backgrounds are at a significant disadvantage to their more affluent peers.    It is hoped that the funding granted to tackle the attainment gap, will help the lives of these children, and give them a better chance of achieving their potential.  However, this is not a problem that will be solved overnight, and many of these children continue to be badly affected by poverty on a daily basis.
Can you help?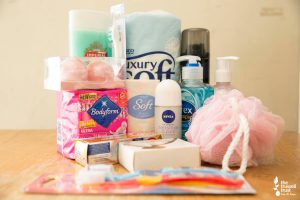 By taking part in our reverse advent calendar this Christmas you can help these children when they, and their families, are at their most desperate. The Trussell Trust operate 428 food banks all over the country and the UK Money Bloggers have teamed up with them this year on our reverse advent calendar campaign.  If you don't have one near you, then please donate to your local food bank instead.
How can you help?
Over a 30 day period between now and 7th December, add one non-perishable item a day to food parcel to be donated to the Trussell Trust by early December.  This timing will allow them to distribute these items to families in need before Christmas.
Which items do they need most?
The best way of establishing this is by checking the website of your local Trussell Trust foodbank, to find out if they have any specific needs. A list of required items at my local food bank are listed below:
Tins of Meat
Cereal
Pasta and Pasta Sauce
Small packs of Pasta
Small packs of biscuits
Toiletries ((feminine hygiene, soap, shampoo, toothbrush, toothpaste, deodorant, loo rolls)
UHT mlk (1 litre)
Tins of fruit & soup (440g)
Pet food
Helping each other
I would love to encourage our children to help other children, which is why I am asking parents, and schools, to get involved in our campaign this year.  If even half of a class of 30 children were able to donate an item a day, the foodbank would have an extra 375 items to distribute this Christmas. 
Imagine the difference that could be made if more of the school was involved.  With just 5 classes taking part, the school would be able to donate nearly 2000 items to families who are desperately in need at this time.
How can you get involved in a reverse advent calendar?
I have created a printable calendar to tick off each day of the campaign.  If you are a teacher who would like to get involved with your class, I have created a sample letter for distribution to parents.  These can be downloaded by clicking on the links below.
If you have got any questions about this campaign, please comment below and I will answer them as soon as possible.
Fiona who blogs at Savvy In Somerset, has a great post about 5 things you might want to consider when donating to a foodbank.  Let's get started and make a difference this Christmas.
If you would like to see how you could make savings in your own finances, then please come along and join my women only Your Money Sorted Facebook page.  
Eileen x
Hi, I'm Eileen Adamson, Your Money Sorted coach, helping female teachers to become happier, healthier and wealthier. By showing you how to make small, sustainable changes, I can help you create the time, freedom and financial security you deserve.
For more information on how I can help you, please see my coaching courses, my Etsy shop or my Amazon shop.