Claim your freebie!

Free Emergency Fund Challenge

Add £500 to an emergency fund

Be calm & more in control

Be able to make good financial decisions
Take a course!

Who is it for?

a busy woman struggling with money, with no time to fix it?

How will it help?

quickly reduce anxiety & begin to feel more confident with money

implement simple systems, saving time & money with easy to follow money tips

start paying off debt, build emergency savings & security
StepChange Debt Charity have launched their #ChristmasDebt campaign to look at the Real Cost of Christmas. Joe from StepChange offers some signs to look out for that social media might be making the financial pressures of Christmas worse.
1. You're feeling depressed and anxious
The tree is up, the lights are on, and the Christmas jumpers are out in full force. But you might not be feeling as festive as you usually do.
Why is this?
Maybe you're a parent, and you've reluctantly witnessed your kids denounce Santa as make-believe for the first time. Maybe you work in retail, and you simply can't take 5 more rounds of Cliff Richard's 'Christmas Time" before your shift is over. Or maybe the political situation is making you feel less like Buddy the Elf and more like the Grinch Who Stole Christmas.
Well, this year there could be a new culprit behind your Yuletide blues.
You guessed it – social media.
20% of people surveyed by StepChange said they feel either anxious or depressed, after looking at what other people have posted about Christmas on social media.  If you're feeling bummed out after scrolling down your feed, do yourself a favour and put the smartphone down.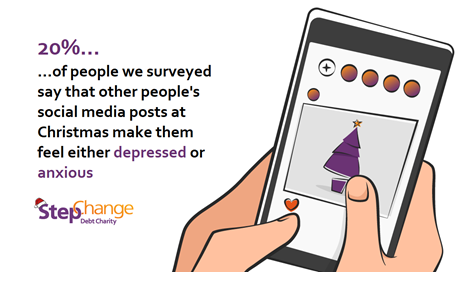 2. You feel under pressure to have a good Christmas
At best, using social media can feel like being part of a community. Whether you're checking out what everyone else is up to, or sharing your life with your nearest and dearest, it can be a great way to keep your finger on the pulse and your loved ones in the loop.  At worst, social media can put you under serious pressure to show you're having the best time, all of time.
The same is true for Christmas. Nearly a third of social media users surveyed by StepChange said they feel pressured to have a good Christmas because of what other people are posting.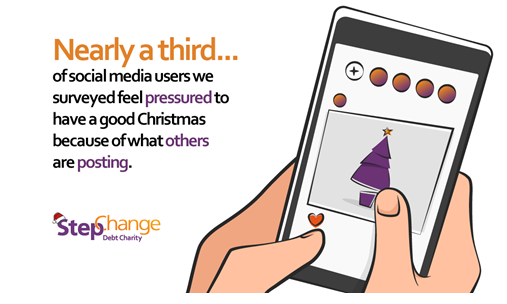 3. You feel under pressure to spend more
It's hardly a new criticism of the festive season that it's become a yearly ritual of commercialism. But it continues to ring true in the age of social media, with all the big platforms becoming the channels of choice for marketers to target new customers.
A quarter of people surveyed feel added pressure from social media to spend more at Christmas.
Tied up with the pressure to spend is the pressure to borrow. 33% of those surveyed by StepChange will be using credit to pay for part, or all, of their Christmas spending this year, and 25% will use a Buy Now Pay Later scheme.
If you're tempted to spend more this Christmas, especially using credit, it's worth asking yourself some questions.
If I couldn't use credit, would I still buy it?
Will paying for this comfortably fit into my budget?
Do I absolutely have to buy it?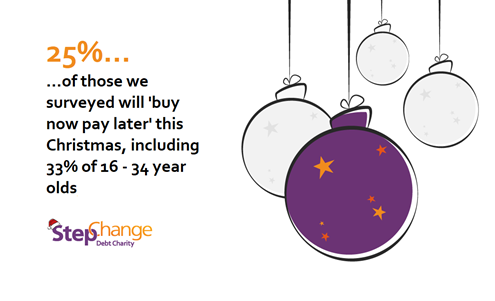 4. You're experiencing Festive #FOMO
Okay, you might not be feeling "pressured", exactly. But you might have succumbed to festive #FOMO – frantically making an impulse purchase thanks to an eerily-accurate targeted ad, jumping in the car and making a dash for the nearest garden centre after seeing all the likes on that picture of your friend's glittering 8ft Christmas tree.
More than 1 in 5 of people surveyed by StepChange have bought something for Christmas after seeing it on social media. Scrolling, swiping, & tapping through your feed can be just another way to overspend. Think before you click!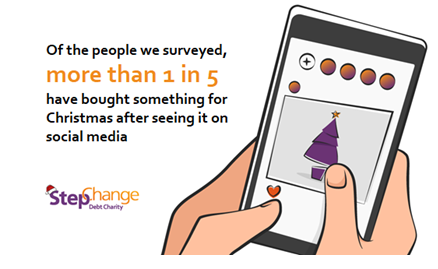 5. You're worried that your Christmas isn't good as everyone else's
A cursory scroll down your feed can certainly make seem like your Christmas doesn't hold a candle to everyone else's: photos of a family trip to Lapland, the piles of presents, and the Christmas spread fit for a king.
It's not surprising that 23% surveyed by StepChange said they feel less fortunate after seeing Christmas posts on social media.
If this resonates with you, try to remember that what we see on smartphone screens is very rarely the whole picture.
Despite what social media may lead you to believe, 51% of those surveyed said they'll struggle to have their usual Christmas due to cutting back on their spending, and nearly 7 in 10 won't comfortably be able to afford Christmas this year.
It's a shame that so many people are feeling this way. However, if you're one of them, try to take some comfort in knowing that you're not alone.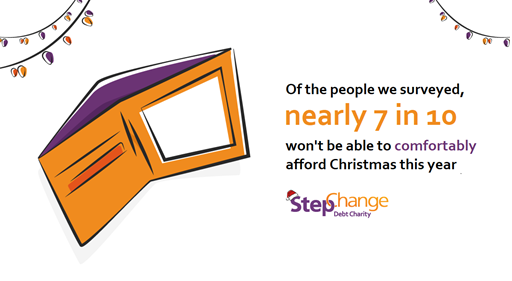 Eileen X